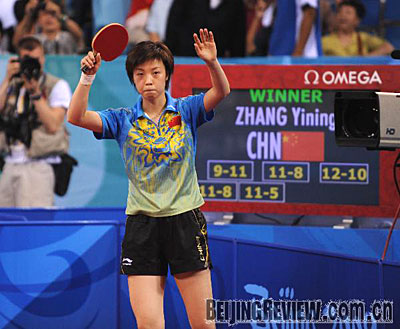 Zhang Yining waves to the audience after winning the semifinal
China's defending gold medallist Zhang Yining stormed into the final of women's singles table tennis competition at the Beijing Olympic Games on Friday, beating Li Jia Wei of Singapore.
Zhang won 9-11, 11-8, 12-10, 11-8 and 11-5. The victory secured a singles gold for China as the world number one will play against the Grand Slam veteran Wang Nan.
"I think Li fought really hard today. She has participated in three Olympic Games, so she is actually more experienced than me in international competitions," said Zhang.
"But I knew I would win once I got over the first game," she said. "The final won't be easy because teammates know each other very well."
Li said that "I played very well today and it's an achievement for me to finish in the top four while the other three are all Chinese players."
Both Zhang and Li were born in Beijing in 1981. They attended the same school in the Chinese capital between 1986-96.
Li went to Singapore in 1996 under Singapore Table Tennis Association's foreign recruitment scheme, and gained Singaporean citizenship in 1999.
(Xinhua News Agency August 22, 2008)