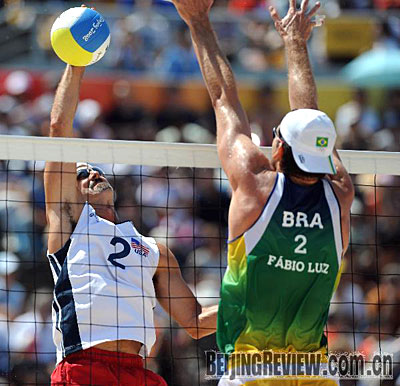 Todd Rogers (L) of the United States spikes
Phil Dalhausser and Todd Rogers of the United States defeated Marcio Araujo and Fabio Luiz Magalhaes of Brazil in the men's beach volleyball final at the Beijing Olympic Games on Friday.
The Americans won 2-1. The three sets went 23-21, 17-21 and 15-4.
The Americans trailed 1-6 as the first set began but were able to make up the loss to 10-10. The two teams then traded points to 19-19 before a spike by Rogers sent the U.S. team to set point and the Americans led to end the first set 23-21.
In the second set, the two teams traded points to 15-15 before the Brazilian pair outscored and got the set point 20-16 and finishing the set 21-17.
The efficiency of the 2.06-meter Dalhausser at the net left the Brazilians almost no resistance in the third set and increased the scores of the U.S. duo steadily set as the Americans claimed the decider 15-4.
Phil Dalhausser and Todd Rogers, the 2007 world champions, have been widely considered to be gold favorites.
(Xinhua News Agency August 22, 2008)