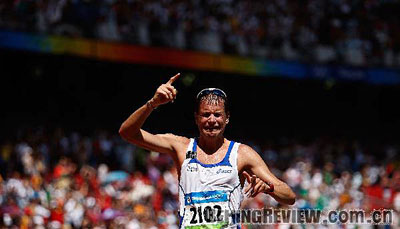 Alex Schwazer of Italy crosses the finish line
Italian Alex Schwazer won his country's first athletics gold medal at the Beijing Olympic Games by claiming the men's 50km walk title on Friday.
Schwazer timed 3 hours, 37 minutes and 9 seconds to finish the walking marathon in a new Olympic record. The former record of 3 hours, 38 minutes and 29 seconds held by Ivanenko Vyacheslav of Soviet Union at the 1988 Seoul Games.
Jared Tallent of Australia took the silver. Denis Nizhegorodov of Russia finished third.
The 24-year-old Schwazer, bronze medallist at the 2007 World Championships at Osaka, Japan, took an early lead from the start and never lost contention in the leading group. He launched the final sprint in the last 5km and rallied to cross the line without any resistance.
(Xinhua News Agency August 22, 2008)