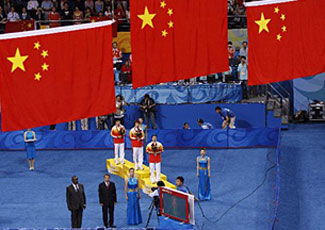 China's all-conquering women paddlers took a clean sweep of the three medals in table tennis singles at the Beijing Olympic Games on Friday.
World number one Zhang Yining won her fourth Olympic gold, after beating veteran Wang Nan 4-1.
Zhang won 8-11, 13-11, 11-8, 11-8, 11-3, becoming the third Chinese table tennis player to pocket four Olympic golds, after Deng Yaping and Wang Nan.
It was also the 19th Olympic gold medal that China won in table tennis since its national sport was introduced at the 1988 Seoul Games.
"As a native of Beijing, I wanted so much to win the gold medal at the Beijing Olympics," Zhang said. "My parents came to watch me play for the first time and it felt as if I was playing at home."
"The final was very tough but I think it was a perfect ending," she added.
Zhang, 27, tried to evade the question if she would take part in the 2012 London Games, saying that she would not think about the issue at the moment but "age will not be a big problem."
World champion Guo Yue finished third, after fighting off a strong challenge from Singapore's Li Jia Wei 4-2. Guo failed to reach the final because of her 4-2 loss to Wang, who is going to retire and determined to win as much as possible at her last Olympic Games.
Wang said earlier this year that competing in the Olympics on home soil and even winning a gold medal would be the perfect way to wrap up her career. The 30-year-old is the sport's most decorated player, with more than 20 world titles..
"I did have great pressure during the team event because I was afraid that I could not prove to be the best," Wang said. "But I began to enjoy myself since I beat Tie Yana (of Hong Kong, China) in the quarterfinal."
"After 20 years of winning and losing in table tennis matches, I want to change my life style. I will find a job I like so that I can continue to do something for the country," she said.
When asked what the veteran had to say to her younger teammate Guo, Wang pondered a moment and said "All she needs is time."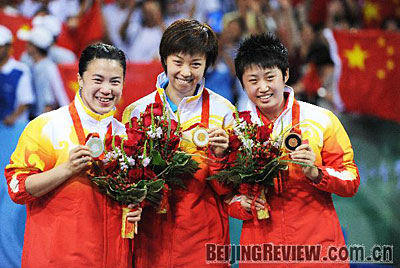 (L-R) Silver medallist Wang Nan, gold medallist Zhang Yining, and bronze medallist Guo Yue at the award ceremony
(Xinhua News Agency August 22, 2008)