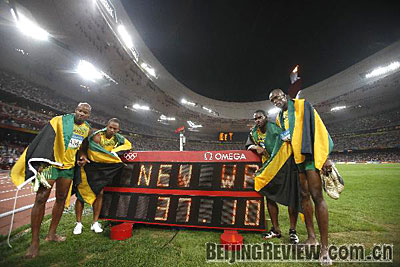 (L-R) Asafa Powell, Michael Frater, Nesta Carter and Usain Bolt of Jamaica pose for photos by the results board with their new world record after the men's 4x100m relay final at the National Stadium
Two sprint gold medals winner Usain Bolt led Jamaica to the men's 4x100 meters win with a new world record at the Beijing Olympic Games on Friday.
Bolt, who broke both the 100m and 200m world records en route to the gold medals, ran the third leg and gave the Jamaicans a big lead before handing the baton to Asafa Powell, the former world 100m record holder.
Powell easily anchored the race in 37.10 seconds, breaking the previous mark of 37.40 set by the United States at the 1992 Barcelona Olympic Games. All of the Jamaican quartet could run 100m within 10 seconds.
Trinidad and Tobago, led by 100m silver medallist Richard Thompson, took the silver in 38.06 seconds and Japan won the bronze in 38.15.
"It's something that I'm used to, you know? But, being with a team, it's different," former 100m world record holder Asafa Powell said when referring to breaking the relay record.
"37.10 (seconds), smashing the record, I think it's going to take something special to break this record. But I think next year, we'll break it," said Jamaica's second leg Michael Frater. "Next time, 36 (seconds)."
"All I can say is Jamaican sprinters are taking over the world," said Bolt. "We've always been the sprinters, but we're going to tell the world we're taking over forever, forever."
Japanese team, with a surprise, won the bronze medal in 38.15 seconds to update their seasonal best result. It has been also the best result for Asian countries in the men's Olympic 4x100m relay events.
"It is the highest stage. I think this is the best achievement I have ever got in my life. We still have some distance from the best competitors in the world," said Nobuharu Asahara, the last leg of the team, adding that they were very happy to make a history for the Asia.
A combination from China, led by the promising sprinter Hu Kai which entered the final for the first time at Olympics, finished the last in the eight-team relay final.
However, the Chinese team's result was later disqualified by the judges according to rule 170.14 of the IAAF for the sprinters made a foul between the third and fourth leg, in which they failed to complete the baton exchange inside the handover section.
"I feel very regretful for the mistake," said the last leg 26-year-old Hu Kai. "We worked so hard in the race to prove that we could enter the final not only because of a good luck (due to the U.S. and other favorite teams' disqualification)."
"We think too much of getting a better result," Hu added.
(Xinhua News Agency August 22, 2008)