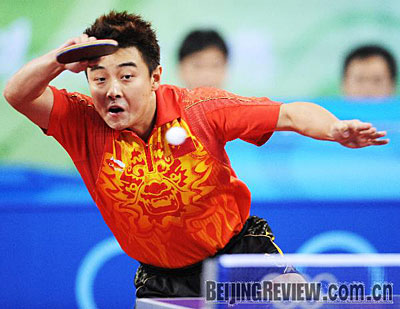 Wang Hao during the competition
Jorgen Persson of Sweden failed to prevent an all-Chinese final but staged a spirited challenge to world No. 1 Wang Hao in table tennis men's singles semifinal at the Beijing Olympic Games on Saturday.
Wang Hao, 25, got off a flying start to take the first two sets 11-9, 11-9.
But the clash turned in Persson's favor as the 1991 word champion took a 4-0 lead in the third set and won 11-9.
Wang managed to control his serves and came back to dominate the rest of the game 11-7, 11-9.
"It is unfortunate that I lost the close set today, I have been winning a lot, but today Wang Hao is a little stronger," Persson said.
The 42-year-old snatched down 5th-ranked Vladimir Samsonov of Belarus and Croatia's Zoran Primorac to storm into semifinals, the second-best result he achieved after finishing fourth at the 2000 Sydney Games.
"I am not satisfied with this and I'll go back to prepare for the bronze match," he said.
After days of intensive battles on the court, Persson is the only non-Chinese paddler who reached the top four.
The Swede has vowed to break the Chinese wall which he described as "the Great Wall."
"I can't make it now, but I' ll try to make it tonight, and It's a hard wall to break," the sixth-time Olympian said a laugh. Two Chinese, two South Koreans and one Swede have claimed the men's singles title in the Olympic history.
Wang Hao and coach Liu Guoliang hugged each other, both burst into tears.
"The match reminded me of the time when Kong Linghui and I fought on the table tennis court eight years ago," said Liu.
Liu captured the singles bronze medal after losing to Jan-Ove WaldnerIn of Sweden at the 2000 Sydney Olympics. Kong battled hard against Waldner to be crowned.
Persson will play against Wang Liqin, who was defeated by Ma Lin 4-2, for the bronze medal Saturday evening.
(Xinhua News Agency August 23, 2008)