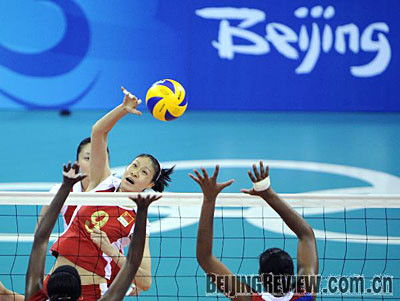 Zhao Ruirui spikes during the competition
A smiling Chinese women's volleyball team rallied to remedy their semifinal loss with a consoling bronze medal at the Beijing Olympic Games on Saturday, beating three-time Olympic champion Cuba 3-1.
Inspired by the deafening cheers of more than 14,000 Chinese fans, the host beat Cuba 25-16, 21-25, 25-13 and 25-20 in the pride-saving match.
Due to a slow start, China opened the match with a dismal 2-6, when the ace spikers Wang Yimei and captain Feng Kun scored five points to help the host take over lead 7-6. Though the Cubans followed up closely, the Chinese managed to keep a slight advantage to 14-13.
China launched a stunning 8-2 run to enlarge the gap to 22-15. Wang's service error helped Cuba pull back one point, but her two ace serves helped China take the set 25-16.
The Cuban spikers came back to life in the second set to establish an early led 9-4 with quick spikes of Nancy Carrillo and Yanelis Santos. China strived to catch up before a 17-all, when Carrillo and another high jumper Rosir Calderon broke the tie and crushed China's attempts to bounce back with attacks from the left flank and the middle court, 24-21 in favor of Cuba.
Veteran captain Yumilka Ruiz sealed the set 25-21 with an unanswered spike.
China staged a brilliant attacking wave from the start of the following set with a 8-4 lead and extended the winning momentum to take the set 25-13.
China took an early lead 10-5 and 15-10 in the fourth set, when Cuba surged back 20-21 with the astonishing performance of its wing hitter Calderon. But that was the furthest they could go. China clinched the meaning victory 25-20 with a spike of middle blocker Zhao Ruirui.
Later on Saturday night, Brazil, who sailed into final without losing a single set, will fight for their first-ever Olympic gold against the United States. The latter, led by China-born head coach Lang Ping, made their historic return to the gold medal match in 24 years after toppling Cuba 3-0.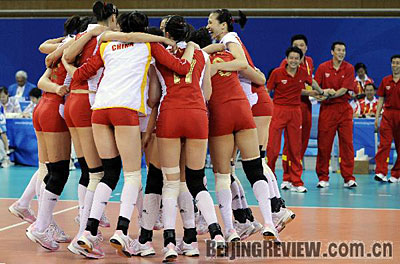 Team members celebrate the victory after the match
(Xinhua News Agency August 23, 2008)