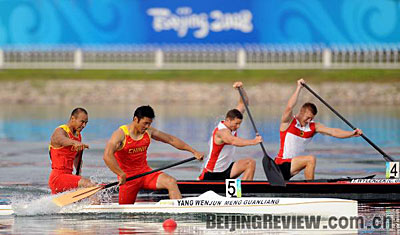 Meng Guanliang/Yang Wenjun (red) during the competition
Meng Guanliang and Yang Wenjun of China claimed their second straight Olympic gold medal in the men's canoe double (C2) 500 meters on Saturday.
Meng and Yang finished in 1 minute, 41.025 seconds, fighting off the fast Sergey Ulegin and Alexander Kostoglod of Russia who took the silver in 1 minute, 41.282 seconds. Christian Gille and Thomasz Wylenzek of Germany took the bronze in 1 minute, 41.964 seconds.
The victory was almost a repeat of the thrilling race at the 2004 Athens Games in a photo finish when they won China's first gold medal in the sport.
The duo made a slow start, but quickly led with the powerful and fast strokes. They kept the lead till the finish line to the crazy roar of the home crowds.
The two fell into the water across the finish line after paddling to their exhaustion. The 25-year-old Yang hopped up and down and waved hands to the jubilant home fans after a life boat brought him on to the dock.
The defending champions are strong favorites for the Beijing Games after winning two World Cup races in June. Meng took one year off after the National Games in 2005 and returned for the Beijing Olympics in October 2006, only to find he had to train harder to lose weight.
The 31-year-old was over 100kg then, compared with less than 90kg in 2004.
He did not pair with Yang until early this year. Chinese sports officials believed that the duo had a better chance of winning an Olympic gold when working together rather than contest in the singles.
"I returned because I could not resist the temptation of the Beijing Games, as one could have only one chance in his lifetime to compete in the Olympics on home water," Meng said earlier.
"If I missed the Games, I could regret it all through my life," he said. "I wanted to strive for a second Olympic gold and leave no regret for my sports career."
(Xinhua News Agency August 23, 2008)