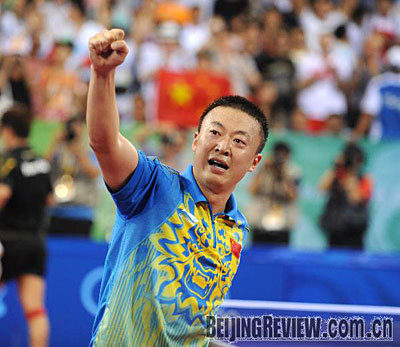 Ma Lin waves to the audience after winning the gold
World No. 2 Ma Lin claimed the Olympic title, outgunning teammate Wang Hao 4-1 in an all-Chinese men's singles table tennis final on Saturday.
Ma, 28, took the game 11-9, 11-9, 6-11, 11-7 and 11-9, becoming the third Chinese player to win the Olympic men's singles gold, after Liu Guoliang at the 1996 Atlanta Games and Kong Linghui at the 2000 Sydney Games.
It was also the 20th Olympic table tennis gold medal that China bagged since the event was introduced at the 1988 Seoul Games.
The 2000, 2003, 2004, 2006 World Cup champion Ma, teamed up with 7th-ranked Chen Qi, won the men's doubles gold medal at the Athens Games, a glory he replayed in Beijing.
"I prepared well for the Games and made more changes in attacking," said Ma, who cried into a towel after the playoff. "I controlled the critical points well, which was key to my victory."
Ma has never been the winner of single's event in world championships. In the final of the 2005 World Championships, Ma was outperformed by Wang Liqin, who captured the gold medal in front of fervent home fans in Shanghai. In 2007, Ma was thumped again by Wang Liqin and missed his chance to claim the title in Zagreb.
"The match is close. Unfortunately, I did not handle the ball well in critical moments," said Wang, who hold back Swedish veteran Jorgen Persson in the semifinal to ensure China's gold medal.
Wang Hao suffered a meltdown in the gold match final against Ryu Seung Min of South Korea in men's singles at the Athens Games. Ryu did not make it to the top 16 following a string of setbacks in Beijing tournament.
"I made great improvement over the past four years. Despite the failure to capture the Olympic title, I will not give up my faith and will gear up for the next Olympics," said Wang, who won his first world title at last year's World Cup in Barcelona.
Blanketing Swedish veteran Jorgen Persson 4-0, 4th-ranked Wang Liqin finished third, taking a clean sweep of the three medals in the men's singles competition.
"I adjusted my mind after the loss in the morning and played the evening game well," said the 30-year-old.
Wang Liqin failed to reach the final due to a defeat by Ma Lin 2-4, which shattered his dream to finish top on the Olympic podium.
"When I won the singles bronze medal in Athens, I felt regret because the gold medal was took away by South Korean. Today, I am very proud that we Chinese have made to do with all three medals," Wang said.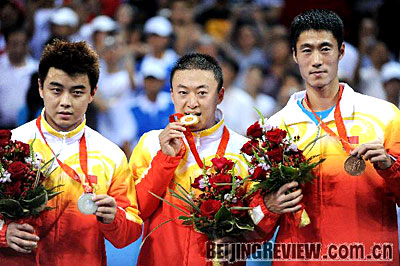 (L-R) Silver medallist Wang Hao, gold medallist Ma Lin, and bronze medallist Wang Liqin at the award ceremony
(Xinhua News Agency August 23, 2008)