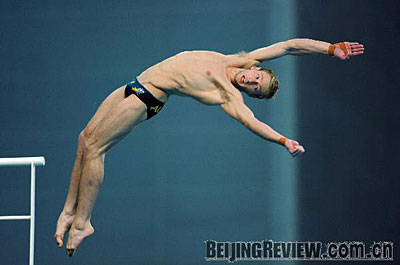 Matthew Mitcham of Australia during the competition
Aussie Matthew Mitcham outscored top favorite Zhou Luxin at the last second in the men's 10m platform final at the Beijing Olympic Games, spoiling China's dream of a clean sweep of all Olympic diving golds for the first time in over 50 years.
Mitcham trailed Zhou in the first five dives, but still over 30 points behind before the last attempt.
However, he nailed an unbelievable back two-and-a-half somersault and two-and-a-half twists, with a 3.8 degree of difficulty, achieving four perfect 10s to outscore Zhou who made a glitch in his last attempt.
The World No. 3 compiled a total of 537.95 points to bag the gold.
Zhou, winner of the 2006 World Cup and runner-up of the 2007 World Championships, took the silver medal with 533.15 points.
World champion Gleb Galperin of Russia settled for the bronze with 525.80.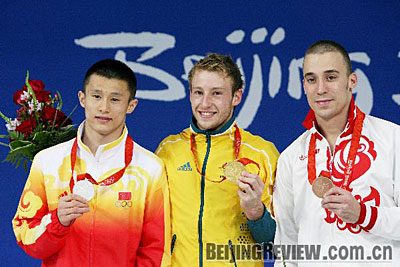 (L-R) Silver medallist Zhou Luxin of China, gold medallist Matthew Mitcham of Australia, and bronze medallist Gleb Galperin of Russia at the award ceremony
(Xinhua News Agency August 23, 2008)