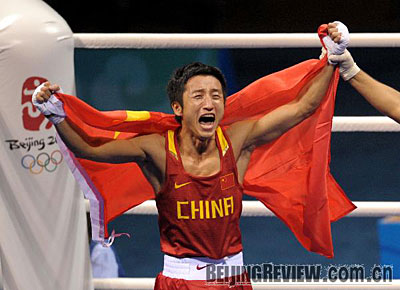 Zou Shiming cries in joy after winning the gold
Zou Shiming won China's first gold in boxing at the Beijing Olympic Games on Sunday, defeating Serdamba Purevdorj of Mongolia in the final of the light-flyweight class.
Zou hit Purevdorj with a combo of punches in the first round, earning one point. The bout ended abruptly in the second round with Purevdorj retiring due to an apparent shoulder injury.
Profile of Zou Shiming
Birthday: May 18, 1981
Place of Birth: Guizhou Province
Height: 164 cm
Weight: 48 kg
Result at the Beijing Olympic Games: Gold medal in men's 48kg boxing
(Xinhua News Agency August 24, 2008)