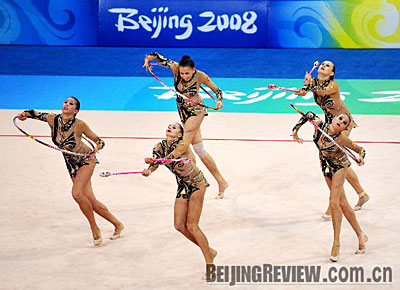 The team of Russia during the competition 
Defending champion Russia claimed the rhythmic gymnastics group title at the Beijing Olympic Games on Sunday.
It's the country's third consecutive title in the event, with a total of 35.550 points.
China won the silver, its first Olympic medal in the event, in 35.225. Belarus settled for the bronze in 34.900.
"The silver medal is unexpected. We are so happy that we made the breakthrough for Chinese rhythmic gymnastics," said Zhang Shuo of the Chinese team.
"It's not easy because we have come a long way to be here. We will make efforts for better results," said Zhang.
Each group, consisting of five gymnasts, performed two routines, the first with five ropes and the second with three hoops and two clubs.
The scores of both routines are combined to determine the group total.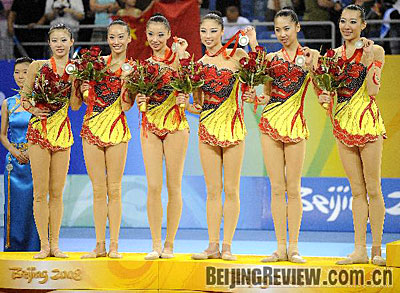 Team members of China's rhythmic gymnastics show their silver medals at the award ceremony
(Xinhua News Agency August 24, 2008)