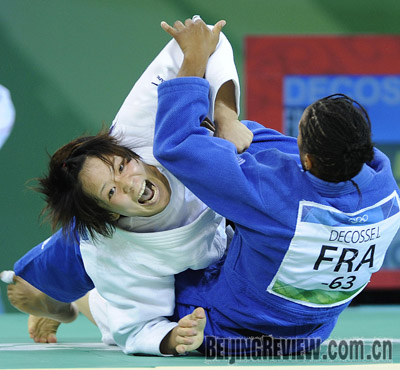 Tanimoto Ayumi of Japan wrestles with French rival Lucie Deosse to win gold in women's 63 kg judo competition
Before setting her feet steady, Tanimoto Ayumi, the Japanese judoka, let her face break into a broad smile, certain she had won the match.
Upon hearing the referee announce that she had won by ippon, she was so excited that she began jumping on the tatami, a traditional japanese mat, her eyes wet with tears of joy.
Tanimoto, 27 years old and 1.58 meters tall, came to Beijing to defend her Athens Olympics' win in the women's 63 kilograms judo event. The match was supposed to last 4 minutes, but she ended it in 1 minute and 26 seconds, throwing her French rival, the 2007 world champion Lucie Décosse onto the tatami and scoring an ippon victory. She successfully defended her Olympic title, becoming the fifth Japanese judoka to do so.
In Judo, an ippon brings automatic victory. The ippon can be awarded in several circumstances, when one contestant has full control over the other. For instance, when a judoka pins an oppnent down with the opponent's back touching the mat for 25 seconds, that is an ippon.
Tanimoto won every bout she fought in Beijing by ippon, from the preliminaries to the final. She credited her success to being taught that ippon was the most important skill to pre-empt an opponent.
Tanimoto was encouraged to practice judo by her father and brother. She got more interested in the event when she saw Toshihiko Koga win an Olympic gold in the men's 71 kilograms judo event at the 1992 Barcelona Olympics. This made her more determined to become a joduka, and fortunately she became the student of her hero Toshihiko,who brought her to Athens where she won her first Olympic gold.
Although recent changes in competition rules have rendered ippon less decisive, Tanimoto insisted on using it, both in Athens and Beijing. She said that she would not only continue using it in the future, but will also pass it down to the next generation.
"Many people have supported and encouraged me. I am very grateful to them," said Tanimoto. Among these supporters is her younger sister, who also became a judoka under Tanimoto's influence. The younger sister is Tanimoto's training partner.
Tanimoto's journey from Athens to Beijing was not smooth. In November 2007, she was badly injured while practising wrestling and confined to bed, almost unable to walk. She made five trips to the hospital each week, and each treatment lasted three hours. The doctors were not sure whether she would recover in time for the Beijing Olympic Games.
It wasn't until this February that Tanimoto could return to judo training. Because of the injury to her waist, she had to try her best to avoid stretching it during training. Her stamina sustained her to Beijing, where she triumphed with another Olympic gold.