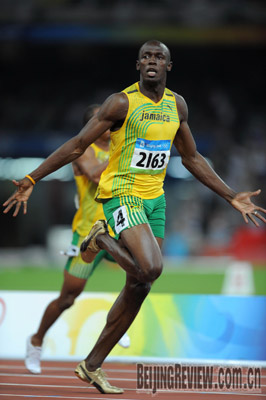 NO CONTEST: Jamaica's Usain Bolt celebrates his record-setting win in the men's 100 meters final on August 16
If Michael Phelps was born for swimming, then nature must have chosen Jamaica to produce outstanding runners. In both men's and women's sprint events at the Beijing Games, they've simply blown the competition away.
Jamaica has bagged a bundle of medals in Beijing. Usain Bolt, who just turned 22, broke his own world record in the men's 100 meters on August 16, breezily crossing the finish line in 9.69 seconds. Four days later he finished the men's 200 meters in 19.30 seconds for a gold medal and another world record. Bolt is the first man to win both events since Carl Lewis in 1984. The 100 meters gold usually goes to the Americans, who have won the event 16 of 26 times since 1896. Now Bolt has become the first Jamaican to attain the honor.
Jamaicans are also creating a sensation in the women's sprints. On August 17, they swept the women's 100 meters, including gold for Shelly-Ann Fraser and silver shared by Sherone Simpson and Kerron Stewart. Simpson, Stewart and teammate Veronica Campbell-Brown, the defending gold medallist, were also set to compete in the 200 meters final on August 21.
An excited Fraser, who finished in 10.78 seconds, said the secret to Jamaicans' outstanding running ability is the power of reggae music. "The rhythm flows through us and we just let it out on the track," she told reporters.
Jamaica, a small island country in the Caribbean with a population of 2.8 million, is home to some of the most famous athletes in the world. Among the 52 athletes appearing at the Beijing Games, 39 are excellent sprinters. A recent study indicates that when it comes to running, Jamaicans may have a genetic edge. Researchers at the University of Glasgow and the University of the West Indies tested 200 Jamaican athletes and found that 70 percent had a naturally occurring substance called Actinen-A, which can help perfect muscle fiber and make athletes run faster. By comparison, the substance appeared in only 30 percent of Australian athletes.
Beyond the scientific aspect, however, running has long been a popular sport in Jamaica, where boys and girls compete as young as age five. Their training conditions cannot match those in developed countries, but they have made tremendous achievements in the field.
After Bolt won the 100 meters, someone observed that if he had not slowed down to pose for the cameras as he reached the finish line, he could have set an even greater record. Bolt laughed and said he was just enjoying the atmosphere of competition. Maybe that's why Jamaicans are so crazy about sprinting.