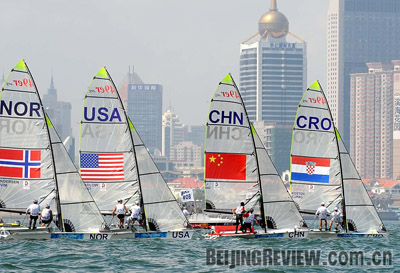 SAIL TO SAIL: Ships compete in the Olympic 49er class sailing event in Qingdao on August 10
Athens silver medalist Yin Jian nearly caused a riot on August 20 when she won China's first and only Olympic sailing gold medal in the Beijing Olympics. A roar went up from fans lining the viewing wall just outside the venue in Qingdao, the coastal resort in east China's Shandong Province, when they realized Yin had won gold.
China's last gold medal in sailing was won by Hong Kong's female windsurfer Lee Lai-shan in the 1996 Atlanta Olympics.
China has also won two Olympic sailing silver medals, with Zhang Xiaodong in Barcelona in 1992 and Yin in Athens in 2004 and a bronze in the Laser Radial by Xu Lijia on August 19.
Sailing was first contested as an Olympic sport in Paris in 1900. Races are held in what is known as fleet racing format: fleets of equally matched boats racing around the same course area at the same time. The boats race around courses, which incorporate a variety of different sailing angles-upwind, downwind and reaching. Races are scheduled to last between 30 and 75 minutes depending on the event. Scores are awarded according to finishing positions in each race. Only one team from each country can qualify for each of the Olympic sailing events.
From August 9 to 21, some 400 sailors from 62 countries and regions competed for altogether 11 gold medals in Qingdao. Britain was the biggest winner with four gold medals, while Australian sailors walked away with two, and China, Denmark, the United States, New Zealand and Spain each won one.
Hospitality
When Olympic tourists and sailing fans flocked to Qingdao, they were impressed with friendly people, beautiful beaches on the First Bathing Beach, interesting European-style architecture in the Badaguan area and enthusiastic Chinese audiences cheering for medals for the home team.
Altogether 13,760 volunteers from all walks of life offered help on the streets, emergency aid and language services in Qingdao.
A multilingual call center was set up in the city to provide language services for tourists around the clock. A hundred volunteers at the call center, which is in operation from the end of July to the end of September, answer calls in English, Japanese, Spanish, Korean, French, German and Russian.
Wang Jiangong, Director General of the city's tourism bureau, told China Daily, that the Olympic regatta would attract more visitors by promoting the city's reputation worldwide.
In recent years, tourism in Qingdao has witnessed a growth rate of 33.4 percent each year. Last year, 1 million foreign visitors flocked to the city.
Wang said that the local government invested 5.3 billion yuan ($771.2 million) to refurbish and upgrade more than 100 star hotels and travel agencies before the Games.
Olympic legacy
Qingdao is using the Olympic sailing competition as a springboard to reinvent itself as a new hub for the fledgling sport in China.
It has established sailing as part of the program at 40 local schools and has 100 youth sailing clubs specializing in teaching theory and technique.
Wendeng Road Primary School added sailing to the curriculum in 2005. Its "Dream of Sailing" training team, comprising nearly 40 pupils from third to sixth grade, has a 40-minute class each day. During the summer, they will move away from classroom simulation to the reality of the open sea.
Meanwhile, local companies have donated 10 million yuan ($1.43 million), so schools and clubs can buy 1,000 boats to foster a greater sailing culture there.
Besides promoting sailing education among children, the local government also connects the city with world-class sailing events. With two pre-Olympic test events under its belt, Qingdao already has plans for three more international sailing regattas after the Beijing Games.
Having participated in the 2007-08 Clipper Race, Qingdao will continue to be the only Chinese stopover for the competition over the next four years.
It will also serve as the only Chinese stopover of the 2008-09 Volvo Ocean Race, one of the world's biggest sailing events. Moreover, the Chinese team that features in the American Cup also has a base in Qingdao.