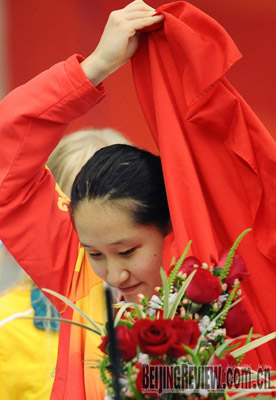 SURPRISE WINNER: Chinese swimmer Liu Zige takes the gold medal for the Olympic women's 200 meters butterfly and sets a new world record. It was the first and the only gold medal for the Chinese swimming team
On the morning of August 14, Chinese swimmer Liu Zige gave a big surprise to the spectators glued to TV screens watching the Olympic women's 200 meters butterfly competition: She won the first and only gold medal for the Chinese swimming delegation.
Liu was little known before she won the swimming championship. At a press conference after her victory, the 19-year-old had to introduce herself to the audience, so they knew who she was.
"What I was trying to do was to give it my best shot. I didn't care about how the other competitors did and I swam to my own rhythm," Liu said.
In the final, Liu was in the fourth track. On her left was the world record holder Jessica Schipper of Australia and on her right side was her teammate 17-year-old Jiao Liuyang.
Schipper finished the first 50 meters in the lead. In the latter part of the race Liu began to sprint and passed Schipper at 150 meters. In the end, Liu and Jiao came in first and second in 2 minutes, 4.18 seconds and 2:04.72, both breaking the world record of 2:05.40. Liu also beat her personal best by 3 seconds.
"Over the past year I've been advancing my scores, so it wasn't a surprise to me to finish the race in a better time, but I didn't expect to break the world record," said Liu.
Liu won first place in this year's tryout competitions in 2:07.76, taking the first swimming ticket to the Olympic carnival.
In the eyes of her family, Liu is a quiet girl. After winning the gold medal, everyone was cheering for her except herself; she looked unmoved by the event.
Liu, however, is a girl who has a fighting spirit and always tries her best. "Our intention to let her learn to swim was to make our quiet daughter more vigorous and brisk," recalled her father, Liu Lihui. "But we never expected one day she would win a gold medal in the Olympic Games."
"She has a good physical condition, is a skilled swimmer, and her breathing coordinates with her body movements quite well," said her coach, Chen Yunpeng. Being 1.81 meters in height, Liu is tall, something rarely seen in China's swimming team. "She was expected to make a wonderful performance," her coach said.
Other than swimming, the thing Liu likes most is reading classic literature. "I read Dao De Jing (an ancient Chinese philosophy book by Daoist philosopher Lao Zi) before the Olympics to calm myself down and relieve the pressure," Liu confessed.
Liu is different from many other girls: She doesn't like karaoke; she watches TV but mostly history-related programs; she doesn't buy cosmetics and fashionable clothes.
In the Beijing Games, however, she was finally wearing a fashionable outfit for once: a sharkskin-swimsuit of the latest generation. Experts say that the sharkskin suit created a streamlined shape and tightened up the belly to help the swimmer keep the right posture.
"This was my first time wearing such a hi-tech swimsuit. Some might feel uncomfortable in it, but I like it," said Liu.