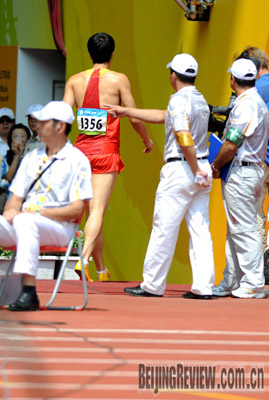 SHATTERED DREAM: Liu Xiang leaves the track after failing to qualify in the men's 110-meter hurdles due to injury
We sat around the office TV watching. All work had ground to a halt. The Bird's Nest Olympic stadium was a full house and 90,000 pairs of eyes were glued to the track. No one even dared breathe. This wasn't even a final. Liu Xiang, the golden boy of Chinese sports, was setting himself up for the first 110-meter hurdles qualifying heat when he pulled up after a false start. As he limped off with an ankle injury, his departure was met with gasps of collective disbelief in the stadium and stunned silence in my office. I was as dumbstruck as everyone else.
To put it into perspective, you need to live in China to realize the extent of the Shanghai Bullet's popularity. Since winning the gold medal at the Athens Games four years ago, becoming China's first-ever male track gold-medal winner, Liu has gone on to mega national stardom.
He graces the cover of Newsweek and Sports Illustrated and his face is the first you see on advertising at any airport or train station in China. In cities across the country, on the sides of buses and on all of China's more than 50 TV channels with nationwide coverage, Liu can be found in ads for Nike, Coca Cola and Cadillac as well as domestic brand Yili dairies and controversially a foundation run by one of China's biggest cigarette manufacturers, Baisha. Only NBA basketball superstar Yao Ming rivals Liu for fame on the mainland. Liu now earns more than $24 million a year and travels with an entourage that checks his food, what he drinks and watches his every move. He is reportedly not even allowed to drive his own car in case of accident or injury. In a nutshell, Liu has been kept in cotton wool, all in preparation for the big day in Beijing-the 110-meter hurdles finals.
He is spoken about so often and with such reverence that it sometimes seemed the Olympics were Liu Xiang and he was the Olympics. China Daily reported that in a survey of more than 1 million Chinese carried out at the end of last year, the top Olympic dream was to witness Liu winning gold at the Bird's Nest stadium.
Many local media shows and online forums have speculated about the psychological pressure Liu was under with the aspirations of an entire nation weighing on him. Everyone wanted him to win at home. With 1.3 billion people expecting a victory, there cannot be any other athlete to have ever been under the gun in this way and tickets for the 110-meter hurdles final were the most prized possession in the country.
I spoke to several colleagues and friends about their thoughts on the sad news. Most were devastated despite trying to put on a brave face. Some said his time has passed and he should run through his pain. Others said his injury must be really serious to keep him out. Interestingly, it seemed that people were not even aware that Liu was carrying an injury, something which will no doubt lead to much debate. Liu's coach said it was an old injury that has resurfaced-at the worst possible time.
One colleague said the blow dealt by the news went deeper than just sports. She told me that China needed heroes like Liu to lift up the nation's spiritual consciousness and that with the Olympics coming after the Sichuan earthquake, the feeling of Chinese returning to their deeply rooted culture of caring, being united and working as a team was now evident. It was a new form of nationalism, a kind of modern revolution, she said, where people realized they had the power to change and unify. And Liu's heroics on the track were an integral part of this unification process.
At the press conference that followed the news, Xinhua reported Liu's coach Sun Haiping was in tears. Liu wasn't at the conference and one can only imagine how he must have been feeling. "His Achilles tendon in his right foot was seriously hurt again this morning before the race. With the bad injury Liu shivered when receiving immediate medical treatment of three sports doctors," Sun said.
China has shivered at the news too. Beijing is a very somber place at the moment. Despite China already having taken the lead in gold medals and excelling in all aspects of this sporting gala, everyone was in agreement that the 110-meter hurdles was the one gold medal that was prized above all else.
The author is a South African living and working in Beijing