Women's Volleyball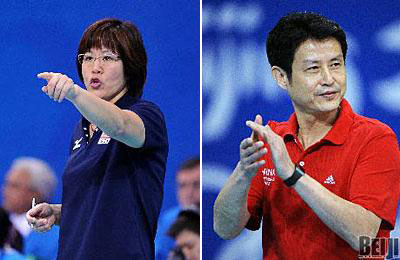 Jenny Lang Ping versus Chen Zhonghe
Flashback
On August 15, the U.S. beat China 3-2 in a preliminary.
On August 23, the U.S. lost to Brazil 1-3 in a gold medal match; China took bronze by defeating Cuba 3-1.
Words From the Heart
"I don't take sides, I will just be professional. I hope both China and the U.S. will have great performances and just win," said Lang Ping in an interview with NBCOlympics.com when asked about the possibility of playing against China for the gold medal.
"Some coaches even cried when we were trying to find out why we lost, let alone the girls. We have too much pressure in our mission to enter the final, so we didn't. Injuries and low spirit hampered us and I also failed to help the girls have a proper attitude towards winning and losing. My dream is to win the gold, but I'm satisfied with the result today as we finally overcame setbacks over the past four years, especially the past two weeks, and the girls really did a good job today. Young players, like Wang Yimei and Ma Yunwen, have great potential. But remember: no pain, no gain. So long as they are ready to make efforts, the Chinese team will be a strong team in a few years," said Chen Zhonghe after the match.
Athletics--Men's 110m Hurdles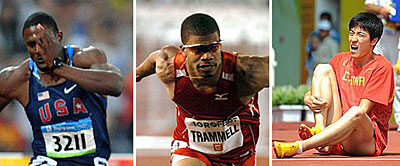 David Oliver and Terrence Trammell versus Liu Xiang
Flashback
On August 18, in the first round of the event, David Oliver finished first in heat two in 13.30 seconds. Terrence Trammell was unable to finish heat five because he suffered a moderate hamstring strain on his left leg. Liu Xiang withdrew heat six just a second before the second start with a tendon injury on his right foot.
On August 21, David Oliver took bronze in 13.18 seconds. Dayron Robles of Cuba won gold in 12.93; David Payne of the U.S. got silver in 13.17.
Words From the Heart
"I feel very sad. I really don't want to quit. I know everyone was keenly expecting me to run yesterday. I wanted, as much as you did, to cross the finish, a scene you have already got used to. But my feet…Please believe me. The sadness and pain I have been through are never less than yours. Please believe me. I am still the same old Liu Xiang you have known. I really appreciate the text messages and phones calls I received from you, my friends, after I withdrew from the race injured. From the bottom of my heart, I thank my friends who understand, support and encourage me all the way. I also thank the Chinese people for supporting me and awarding me huge honors all these years. I believe in my capability. You will see a faster Liu Xiang," Liu Xiang expresses his feelings in an open letter on August 19.
Men's Basketball
Dwight Howard versus Yao Ming
Flashback
On August 10, the first match of Group B preliminary, China lost to the U.S. 70-101. Dwight Howard scored 13 points and grabbed 2 rebounds. Yao Ming scored 13 points, grabbed 10 rebounds and gave out 3 blocks.
On August 20, China finished eighth after beating by Lithuania 94-68.
On August 24, the U.S. won gold as they defeated Spain 118-107.
Words From the Heart
"Everyone is proud. I felt great with all the flags and cheering. It's a great game, great atmosphere," said Yao Ming after the match with the U.S.
Tennis--Women's Doubles
The Williams Sisters versus Zheng Jie/Yan Zi
Flashback
On August 11, Yan Zi was eliminated by Vera Zvonareva of Russia 0-2 in the women's singles first round.
On August 13, Zheng Jie lost to Dinara Safina of Russia 0-2 in the women's singles third round.
On August 14, Venus Williams was defeated by Li Na of China 0-2 and Serena Williams lost to Elena Dementieva of Russia 1-2 in the women's singles quarterfinals.
On August 17, the Williams sisters won gold by defeating Virginia Ruano Pascual/Anabel Medina Garrigues of Spain 2-0. Zheng Jie/Yan Zi took bronze by beating Kateryna Bondarenko/Alona Bondarenko of Ukraine 2-0.
Words From the Heart
"We were really focused from the very first point. We really wanted to win and we knew this was a really tough tournament, but we never gave up. We had to be focused," said Serena Williams after the match.
"The Olympics is truly about participation, but it's also about your moment in time. Today my moment in time was with my sister who I love almost more than anyone in the world. It's just amazing to think that we could participate and bring home a gold medal and I am so excited I can't even speak. To be honest it does mean more for me to win it with Serena, to share this kind of moment with your sister. I mean that we are practically joined together; it's really unexplainable. I have chill bumps," said Venus Williams, also the gold medallist in the women's singles at the 2000 Sydney Games.
Gymnastics--Women's All-around Individuals
Shawn Johnson versus Jiang Yuyuan
Flashback
On August 15, Shawn Johnson finished second in the women's all-around individuals with 62.725 points, beaten by her teammate Nastia Liukin who won gold with 63.325 points. Jiang Yuyuan finished sixth with 60.900 points. The bronze went to Jiang's teammate Yang Yilin.
Johnson won another three medals at the Beijing Olympics besides the above-mentioned silver: one gold medal on the women's beam; and two silver medals in team competition and floor exercise respectively.
Jiang won a gold in team competition and finished fourth in the floor exercise.
Words From the Heart
"I am so proud because it (beam) is my favorite apparatus. I gave my heart and soul and I did my best routine today. I worked so long for this. It's the perfect ending to my Olympic experience," said Johnson after the competition.
Fencing--Women's Sabre Individual
Sada Jacobson versus Tan Xue
Flashback
On August 9, in the women's individual sabre quarterfinal, Tan Xue lost to Sofiya Velikaya of Russia 9-15. Sada Jacobson was defeated by defending champion, and her teammate, Mariel Zagunis in the gold medal final.
On August 14, the U.S. defeated France 45-38 to grab the bronze. China lost to Ukraine 44-45 to take the silver.
Words From the Heart
"We've had pretty much trainings in this venue so I'm quite familiar with it. I lost the match because I didn't perform well enough and didn't understand the Russian rival enough. She (Sofiya Velikaya) fought very aggressively from the very beginning where I lagged behind and it's very hard to catch up. Maybe we should have studied this rival better," Tan said after losing the individual match.
Shooting--Men's 50m Rifle Three Positions
Matthew Emmons versus Jia Zhanbo
Flashback
On August 15, in the men's 50m rifle prone final, Emmons took the silver; Jia failed to reach the final with 27th place in qualification.
Four years ago, Emmons had a comfortable lead in this event, only to shoot at the wrong target on his final shot and end up with no medal at all. Chinese Jia Zhanbo took the gold. On August 17, in the men's 50m rifle three positions final, history repeated itself. Leading by 3.3 points and needing only a mediocre shot of 6.7 to dispel the 2004 ghosts, Emmons fired a 4.4 on his final attempt to drop to fourth. Qiu Jian of China won the gold with 1272.5 points, only 0.1 point higher than Jury Sukhorukov of Ukraine. Jia finished twenty-fourth in 1163 points.
Words From the Heart
"I got on the trigger a little too hard. I didn't feel my finger shaking but I guess it was. It just hit the trigger, the gun went off and I was like, 'Uh, that's not going to be good.' I must compete for another four more years. Now I think I have a reason. Things happen, I mean we [his wife Katerina won a gold and a silver in women's 10m air rifle and 50m rifle three positions respectively] are going home with three medals, I can't complain," said Emmons after the match.
Women's Football
Pia Sundhage versus Shang Ruihua
Flashback
On August 15, China lost to Japan 0-2 in the quarterfinal. The U.S. reached the semifinal by defeating Canada 2-1.
On August 21, the U.S. beat Brazil 1-0 to win the gold.
Words From the Heart
"Should I cry? Four teams go home today, that's sport," said Shang Ruihua after the team failed to reach semifinals.
"They looked at me like I was coming from another planet," Sundhage said on August 22, recalling that meeting of nine months ago. "I didn't know what to say. But I had change in my head. I knew we needed some kind of a change from 2007."
Swimming--Men's 200m Butterfly
Michael Phelps versus Wu Peng
Flashback
On August 13, Michael Phelps clocked 1 minute, 52.03 seconds to win the gold with a new world record. Wu finished fourth in 1 minute, 54.35 seconds.
Phelps became the first ever athlete to achieve eight gold medals at one Olympic Games: men's 400m individual medley; 4X100m freestyle relay; 200m freestyle; 200m butterfly; 4X200m freestyle relay; 200m individual medley; 100m butterfly; and 4x100m medley relay. Moreover, he managed to create seven new world records and one Olympic record at the Water Cube in Beijing.
Words From the Heart
"I am in a sort of dream world. Sometimes I have to pinch myself to make sure it is real. I am happy. I am in the real world. I went from hitting my head on the wall to win by one hundredth of a second to doing my best time in every event. It's been nothing but an upwards roller coaster. It's been nothing but fun," Phelps said, adding "the biggest thing is nothing is impossible and all it takes is an imagination."
Softball
Flashback
On August 18, the U.S. defeated China 9-0 in a preliminary. The host had a record of 2 wins and 4 losses in the preliminary phase and failed to reach the semifinals.
On August 21, the U.S. lost to Japan 1-3 in the grand final to take the silver, ending up with 8 straight victories.
Words From the Heart
"I am proud of my girls. We really had good chances but lacked some fortune. They did a good job. I felt sorry for the failure especially for the older players who will retire after the Games. We will cherish every inning of each game. We will fight for the fame of Chinese team. Thanks for all these years' support to us," said China's head coach Wang Lihong after the loss to Chinese Taipei.
"I am proud of my athletes both in the past eight years and tonight. They are very tough and showed their spirit in the tournament. Life will be better but we only see more tragedy tonight. We'll move on," said the U.S. head coach Mike Candrea after the final against Japan.