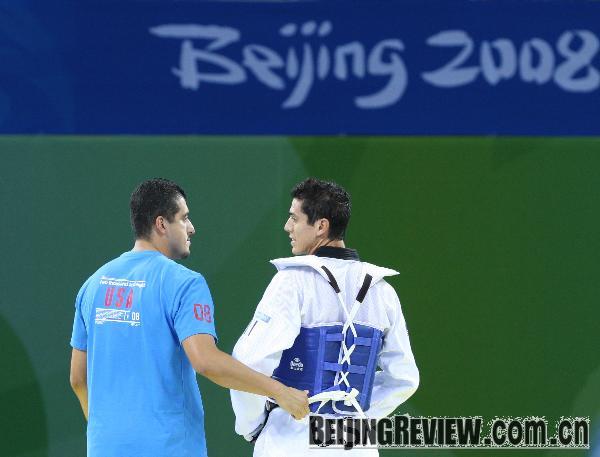 Steven Lopez (R) with Jean
Sport: Taekwondo
Result: Bronze medal in women's 57kg (won by Diana); silver medal in men's 68kg (won by Mark); and bronze medal in men's 80kg (won by Steven)
Key Words: 4 siblings
Magic Index: ★★
Description: The Lopez clan fell into Taekwondo by chance. Their father, Julio, signed up an older son, Jean, when he was 8, thinking he was getting him into karate. Jean fell in love with the sport, and his younger brothers and sister, Steven, Mark and Diana, followed him into it. By 2005, each of the younger Lopez's was a world champion. Jean, a silver medallist in Taekwondo's 1995 world championships, is their coach and a U.S. coach in the Beijing Games. The Lopez family all took part in the events and won medals at the Beijing Olympics.
Words From the Heart:
"I am just so happy, so emotional. To compete at this level and at this venue is an honor. We draw strength from one another. If one is not feeling well, we have the other ones pushing each other," said Diana after the match.
"Of course I wanted the gold medal. I came here for the gold medal but I got silver and you've got to be happy with that," said Mark.
"I came here expecting to win a gold medal, but I guess it wasn't in the cards today. I should have been in the finals. It's hard, but I'm happy with the bronze. It's better than nothing. And in no way does this discourage me from wanting to go to the 2012 Olympic Games," said Steven.
"This time she [Diana] really honed in on what I've been saying to her. I said she didn't have this opportunity before and it might not be something that she gets the opportunity to do again. I told her that the medal is her hardware. Her kids will brag about this medal and her grandkids will brag about this medal," said Jean about his sister's medal bout.