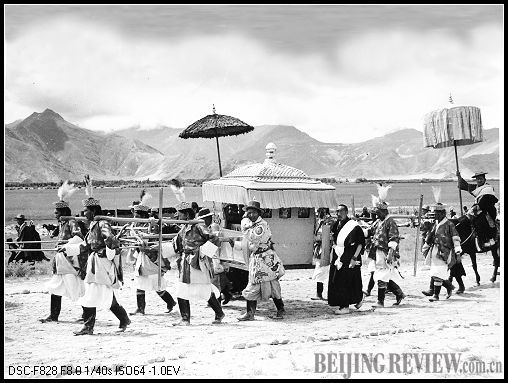 Midday in early Autumn 1958. At the northern end of the Lhalu Wetland and two sides of a road at the southern foot of Sera Woze Mountain in the northern suburbs of Lhasa is a "holy road" marked with stones. A stately, solemn procession of people is slowly advancing on the desolate earthen road clustered around a carriage covered with yellow brocade. Before the carriage, a person holds a peacock umbrella. A valance-like umbrella is pulled off over the carriage and rotates ceaselessly. The carriage and two umbrellas were specially used when a reincarnated Living Buddha went on a trip. When the Fifth Dalai Lama went to Beijing to pay homage to Emperor Shunzhi in 1652, Emperor Shunzhi bestowed a golden-roofed, yellow carriage for his travel in the capital. This went with him to Tibet and, from then on, the 5th Dalai Lama would take the yellow carriage whenever he went on a journey. His successors followed this practice.
Aristocrats and monks in official uniform made of silk produced in Suzhou and Hangzhou rode on horseback. According to the old practices, monk officials went first, followed by the lay officials. Others joined procession behind according to their official ranks. There were also serfs or house serfs wearing neat dress and personal adornment. They served as bodyguards or attendants. Some 16 chairmen, in "Qing soldier-style" costumes and with strong shoulders, carried the carriage with great care and coordinated steps. The young, lonely Living Buddha had to sit in the carriage whether he liked it or not.
Common people are banned from walking on the "holy road". They were allowed to worship, watch or walk outside of the guard line.