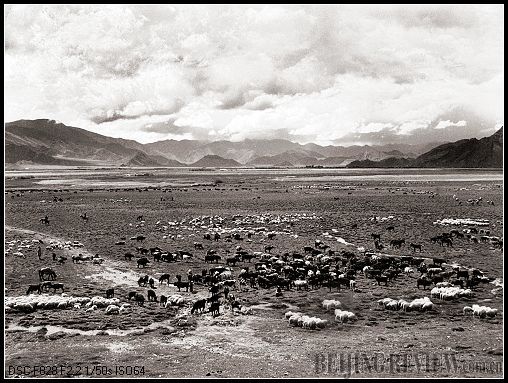 A bird's eye view of "Chisho Wotang (Lhasa River Plain)"(1978). The Lhasa River was originally called "Chiqu", "joyous water" in Tibetan. The Chisho Wotang means the fertile plain drained by joyous water. In the 7th century, Songtsan Gambo unified the snowland and the Tubo Kingdom was founded. He consulted with his ministers to choose a town as the capital. Lhasa, with dense forests and ramifying rivers, was chosen finally. It is a stretch of fertile land suitable for farming and herding as well as for stationing and training soldiers.
According to the Records on Tibetan Kings, after Princess Wencheng entered Tibet, Songtsan Gambo invited her to view Lhasa. The versatile princess said, "The sky of Lhasa looks like the Dharma wheel, which is extremely auspicious; the mountains surrounded seem as eight lotus petals in blossom, a symbol of prosperity."
The "Panbori Mountain" in the southern suburbs of Lhasa means "the treasure-vase mountain" since it looks like a vase in shape. The treasure vase is one of the eight auspicious symbols of Buddhism. All the mountains around Lhasa are nominated with the names of the eight auspicious symbols, including the lotus blossom, conch, Dharma wheel, banner of victory and golden fish. When it is fine after snow, the mountains look like eight lotus petals in blossom and the sparkling Potala Palace on the top of the Red Hill is the pistil.