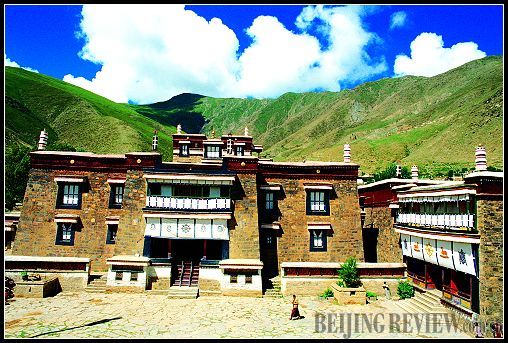 The major monastery of the Nyingma Sect, the Minzhuling Monastery, was founded by Terdak Lingpa, a sutra teacher of the 5th Dalai Lama, in 1676 or the 10th year of the reign of Qing Emperor Kangxi. It was burned down by the Mongolian Zhungar tribes invading Tibet in 1718, but was soon rebuilt. The monastery was passed down from father to the son or son-in-law. In the past, the monks of the major monasteries of the Nyingma Sect in Xikang and Qinghai mostly studied Tibetan calligraphy and Tibetan medicine and calendar there. The monks of the Minzhuling Monastery were famous for their beautiful Tibetan calligraphy.
The Nyingma is an old sect of Tibetan Buddhism, holding that, "the rivers originated from the snow mountains and the Buddhist power from Buddha. All the sects of Buddhism found their root from the Sakyamuni Buddha, but varied from each other in the way of becoming the Buddha. It just like eating a piece of red sugar, which is the same sweet no matter from which end one eats it."
The monks of Nyingma Sect regarded Master Padmasambhava as their ancestral master, advocating "becoming a Buddha in this life and carrying forward the old esoteric Buddhism". This is known as the path of accumulation, involving many issues concerning the way of cultivation through different paths. One can choose a short-cut to cultivate oneself even as one can get to Lhasa from the hinterland on foot, by car or by air.
However, the followers of the Nyingma Sect are scattered, with differing inheritance.
Nyingma is the oldest sect in the history of Tibetan Buddhism, and is thus called the "old sect". The monks wear a red cassock and red hat, so the sect is customarily called the "red sect" (1990)