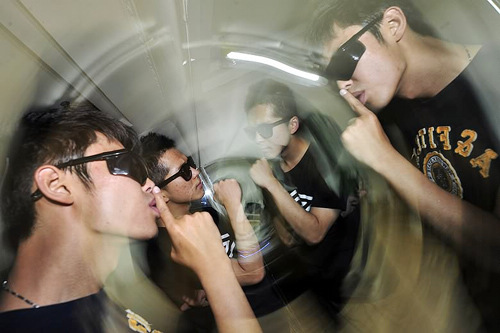 BE COOL: Sonam Tseten (left) and another dancer practice poses at a studio in Lhasa, captital of southwest China's Tibet Autonomous Region, on June 18 (TAO XIYI)
For more photos please click here
Among the crowds on the way to Jokhang Temple in downtown Lhasa, capital of southwest China's Tibet Autonomous Region, a young man is praying before colorful prayer flags. He sticks out like a sore thumb in his black t-shirt and jeans in the crush of well-wishers holding prayer wheels and wearing traditional Tibetan robes. His name is Sonam Tseten, 27, a local Tibetan.
As with many Tibetan youngsters in Lhasa, Sonam Tseten studied in other provinces, imbuing him with multicultural understanding. He applied his talents at Tibetan music and dance and became a rising star in the world of hip-hop, which has been fond of since middle school.
In July 2003, Sonam Tseten and his friends established "Dynasty of Tibet Dancing Crow" (Wuzang Wangchao in Chinese), the first hip-hop dance crew in Tibet. The all-Tibetan group is well-known in the dance scene and earned second place in a state-level competition in 2006.
Off-stage, Sonam Tseten's team teaches their moves to children. At first, parents doubted whether the team was qualified, judging from their exotic clothing and modern attitude. However, their kids spent less time surfing the Internet and playing games, and showed marked improvement in physical condition, communication skills and team spirit. The team justified itself and earned assent from parents, which gave Sonam Tseten confidence in promoting hip-hop in Tibet.
After graduating from college, Sonam Tseten returned to Tibet to run a small business selling local products while he devoted himself to his dancing plans.
In 2008, his dance group registered as a hip-hop training organization, blazing a trail in Tibet. A year later, they began to host hip-hop contests. The charity event called "Dancers Come Back" was one of them.
The team organized the entire charity contest, in spite of having a limited budget and zero experience in stage design, sound and lighting. These difficulties didn't prevent them from holding dance competitions, according to Sonam Tseten. To his comfort, zealous hip-hop fans came from all over the country, many bringing their parents, relieving the pressure to sell tickets, from which all the earnings were donated.
Some people worry whether the introduction of hip-hop endangers traditional Tibetan culture. In Sonam Tseten's eyes, hip-hop's charm makes it popular, and it doesn't contradict local culture. After all, they grow together with traditional culture flowing through their veins.
He integrates traditional elements, such as Tibetan dress, arts and even architecture into the creative mix, breathing new life into hip-hop and preserving Tibetan cultural identity.