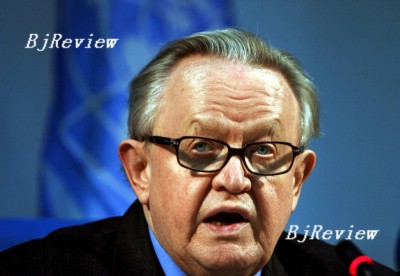 Serbia and Kosovo have been locked in intensive negotiations since UN Special Envoy Martti Ahtisaari released a draft report on the settlement of the status of Kosovo, currently a province of Serbia administered by the United Nations, early February. But no consensus was reached as of early March. After hearing opinions from various parties, Ahtisaari is expected to submit a final proposal to the UN Security Council by the end of the month. With this deadline just around the corner, negotiations on Kosovo's status have turned heated.
The Kosovo issue has long been "internationalized," as evidenced by the stark fact that NATO waged a war against a sovereign country precisely to resolve this issue. "Big power factors" will therefore play a decisive role. The United States and the European Union (EU) largely share the same position, both favoring the "conditional independence" of Kosovo. By "conditional independence" they mean that Kosovo should not return to its status before 1999, be divided or be annexed by a neighboring country. Russia, however, hopes to reach an agreement acceptable to both Kosovar Albanians and Serbs, while opposing any coercive agreements that Serbs find unacceptable. Conflicting interests underlie this divergence of views.
Sponsors for independence
The United States and Britain support Kosovo's independence as part of their efforts to reward the Albanians and address the remaining issues of the Kosovo war. First of all, the primary reason why the United States launched the Kosovo war in 1999 is that it wanted to topple Slobodan Milosevic's regime in Yugoslavia, "the last Communist stronghold" in the eyes of Western countries. Under the pretext of the "ethnic cleansing" in Kosovo, it attacked Yugoslavia together with its NATO allies without the authorization of the UN. After the war, as Yugoslavs aspired for peace and stability, it helped Yugoslavia's opposition to take over the reins in 2000 by committing a huge amount of human and material resources to the country. Now that it has fulfilled its goal, the United States will certainly reward the Kosovar Albanians for their contributions.
Also, many immigrants of Albanian origin are living in the United States. They have formed lobbying organizations to exert influence on the U.S. Congress. Some U.S. politicians are convinced that Kosovar Albanians are oppressed by the Serbs and their rights and demands should be satisfied.