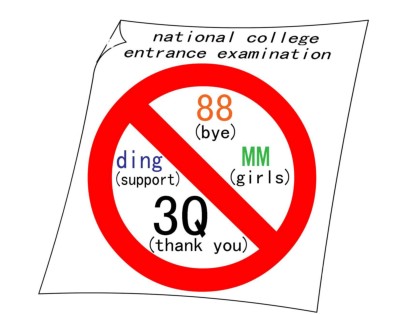 Anyone who has chatted online knows that when the heat is on, brief is best. There is just no time to type out correctly spelled, grammatically gleaming sentences when the gossip gallops across the keyboard. Symbols, jargon, abbreviations, similarities in pronunciation, virtually anything go when cyber lingo crosses time and space. It's the language of the future, invented by netizens, but it seems to be ruffling a few feathers in the hallowed halls of officialdom.
In accordance with the Essentials of the National College Entrance Examination in 2007 issued recently, students are prohibited from using "hard-to-understand" Net-speak in their compositions during this year's national college entrance examination, or they will lose marks.
In 2004, Wu Zhengguo, Director of the Linguistics Department at Huazhong Normal University, demanded that students be prudent in using Net-speak after the abbreviated language found its way onto exam papers.
After the 2005 national college entrance examination, heated debates on the official website of the Ministry of Education wrestled with the issue, saying that the national college entrance exam is designed to evaluate the students' ability to use the Chinese language in its standard form, not as truncated jargonized version. Opposing this have been the calls to "legalize" Net-speak for use during the exam.
While some believe that the college entrance examination should say no to Net-speak to maintain its formality and standard Chinese format, others argue this new "language" reflects the personality, imagination and freethinking of its exponents. It's true that Net-speak may lead to some misunderstandings in different age groups, but is it acceptable to maintain a language's purity by means of deducting marks from those who don't use its official form during the college entrance exam? Cyber age of tried and tested, the debate rages on.
Unacceptable
Xia Yucai (hlj.rednet.cn): People who like to visit online forums can find various forms of Net-speak and some students even use this method of communicating in their compositions. I think the web language has gone too far and the question is: Is it possible to use this language in daily life and even in everyday written form?
Net-speak is actually numbers, letters, jargon, etc, which Internet surfers use to express their ideas quickly in a totally different way from the literal meaning of the words. However, these terms make no sense to those who do not surf the Internet often. Therefore, this web language is only a communication tool limited to a small group of people. Similar to a dialect of some ethnic group, this language is unlikely to be accepted by society as a whole.
Besides, in most cases, Net-speak is not "decent," so if it is used as a written language, it will surely do harm to the purity and nobility of Chinese. Worse still, it will impose a negative impact on the next generation, as they might be drawn to this odd language to the detriment of the standard Chinese language.