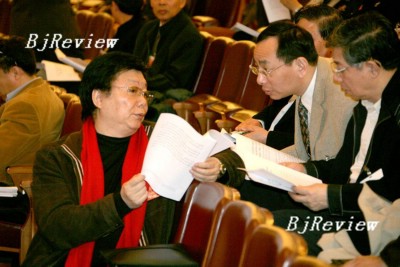 "There's nothing we are afraid to talk about as long as the criticisms, suggestions or opinions are meant to be good for the country, the people, and social development," said Liu Jiren, a member of National Committee of the Chinese People's Political Consultative Conference (CPPCC).
Liu was talking about the 10th National Committee of the CPPCC, China's top advisory body, which convened its fifth annual session in Beijing, March 3 this year. As an open forum where the ruling Communist Party, the non-Communist parties of China, and people with no party affiliations discuss state affairs freely and on an equal footing, the CPPCC National Committee is the manifestation of China's socialist democracy.
A new democratic atmosphere was also noticeable at the 10th National People's Congress (NPC), China's top legislature, which held its annual session starting this March 5 in Beijing.
"A decade back, NPC deputies did not want to speak out during group discussions at the meeting unless they were asked to," said Chi Li, a Chinese NPC deputy, who has participated in the annual NPC meeting since 1998. "But the scene is different today. Deputies are quite active in speaking out and expressing their opinions.
"I used to think that all I could do in the meeting was simply contribute to a show of hands and be a conveyer of whatever the meeting yielded. Now I'm not just an echo, I'm really into examining proposals and government working reports."
Hot debates
During the two annual meetings NPC deputies and CPPCC members make suggestions to the government. This year, CPPCC members contributed to 4,516 proposals and there were 2,021 motions from NPC deputies. These proposals covered a wide range, including medicare, education, employment, social security and agricultural development.
"Medical system reform is the fundamental antidote to the current difficult medical situation," said CPPCC member Gao Runlin, during his speech at the CPPCC meeting.
Gao suggested that before a new medical system is established, the government should increase medical care expenditure, raising it in line with the growth rate of the country's GDP.
China has witnessed an annual GDP growth rate higher than 10 percent in recent years, while the country's medical spending makes up less than 2 percent of overall public expenditure, and a tiny proportion of GDP.