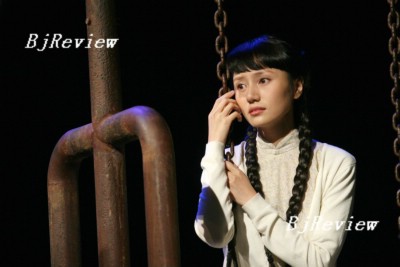 The English version of the iconic play Secret Love in Peach Blossom Land by the influential Taiwanese director and playwright Stan Lai recently concluded 10 performances on Broadway. The Taiwanese version of the play also was staged in Singapore in February. Including planned performances on the mainland in May and a Hong Kong version in July, the play is being performed nearly 100 times all over the world, a gift for the celebration of the 100th anniversary of Chinese drama.
In translating the work into English, the director put more emphasis on helping Western audiences understand the classic poem Peach Blossom Shangri-La by the famous Chinese poet Tao Yuanming (365-427).
As a stage director, Lai is no stranger to U.S. audiences. Many U.S. media outlets gave heavy coverage to the play, and the New York performances garnered high praise.
Lai said he hopes Secret Love in Peach Blossom Land will strike a universal chord that transcends the cultural differences of East and West, of Asia and America, and that his characters will move the audience to laughter as well as tears.
Starring top dramatic actor Huang Lei and actress Yuan Quan and famous variety show hosts He Jiong and Xie Na, the play will begin its second round of performances in Beijing in May.
Lai's best-known work, the play premiered in 1986 and has won both popular and critical acclaim. It has been performed worldwide, and the film version, directed by Lai in 1992, has won honors at various international film festivals.
To commemorate the 20th anniversary of the play, Lai directed a new version in 2006. Apart from a few lines adapted to the contemporary context, the mainland version largely retains the original structure and content of the play.
Interweaving tragedy and comedy on one stage is a leading feature of the play. Two different theater troupes find themselves trapped in the same rehearsal space, and the two seemingly different plays overlap thematically. Under the skilled direction of Lai, the show combines elements of tragedy and comedy that stretch the limits of the actors' and actresses' remarkable abilities by combining melodrama, verbal comedy and slapstick.