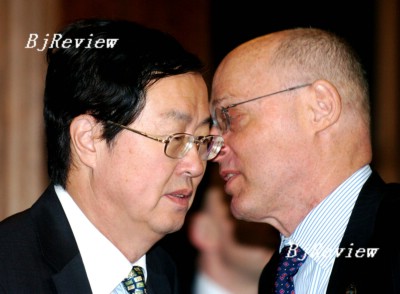 As an investment banker, Henry Paulson was known for his 70-odd visits to China. This high frequency has been sustained since he took over the U.S. Treasury in June last year. On March 7-8, he visited China for the third time as U.S. Treasury Secretary, mainly to prepare for the Second China-U.S. Strategic Economic Dialogue to be held in Washington in May. During the two-day trip, he once again raised the predictable demand that China should further open its markets to U.S. financial institutions.
This demand was put forward by the United States against the backdrop of its severe trade deficit with China. As a matter of fact, the United States has long suffered from deficits in trade in goods and the current account. It enjoyed a surplus in trade in goods from 1893 to 1970. After 1970, however, trade deficits became the norm. From 1971 to 2005, the United States registered a deficit in trade in goods each year except in 1973, 1975 and 1997, and the amount grew exponentially, hitting $665.5 billion in 2004 and $782.1 billion in 2005.
In this context, its trade deficit with China soared. According to U.S. statistics, China has been the biggest source of the U.S. trade deficit since 2001. The U.S. trade deficit with China amounted to $83 billion in 2001, $123.5 billion in 2003 and $201.6 billion in 2005. It accounted for 24.3 percent and 25.8 percent of the country's total trade deficit in 2004 and 2005 respectively. Last year, its deficits in trade in goods and in the trade with China remained obstinately high, while China's trade surplus hit a record high for the second consecutive year.
As far as the global economic imbalance is concerned, China's current account surplus and the United States' current account deficit, both of which are extremely large, are two sides of the same coin. There are two basic explanations of the problem. Under the "crowding out" theory, the blame is put on the United States and other countries that post a trade deficit for their excessive consumption, low saving rate and over-dependence on financing. The "crowding in" theory, however, stresses that low consumption in countries with a current account surplus has led to the oversupply of capital. In official announcements, the United States favors the latter, calling on China to expand domestic demand. Speaking at the Chinese Academy of Social Sciences in December last year, U.S. Federal Reserve Chairman Ben Bernanke indicated that China's low consumption contradicts the ultimate goal of economic development---improving people's living standards---and is a root cause of China's external trade imbalance, adding that increasing consumption helps improve the Chinese people's welfare and restore China's external economic balance.