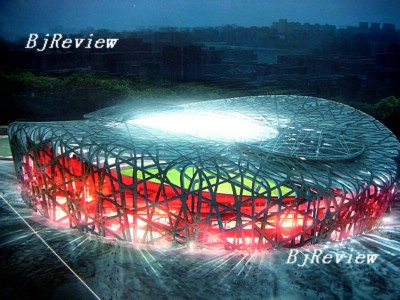 The National Stadium, a nest-like structure where the opening and closing ceremonies of the 2008 Beijing Olympic Games will be held, is setting a good example for all of industrial China by using solar power.
Its supplier of solar power equipment is Suntech Power Co. Ltd. based in east China's Jiangsu Province. The 10-million-yuan contract between the stadium and the solar company includes installing a 130-KW photovoltaic system at 12 stadium entrances. The installation will supplement the venue's conventional power supply and make the stadium an environmentally friendly sporting arena.
Apart from the National Stadium, in 2007, Suntech will also provide $270 million worth of photovoltaic (PV) modules to the global projects of a German company. Industry insiders have deemed Suntech the most competitive Chinese manufacturer of solar products in the global market. Since its initial public offer in 2005, the company already has achieved a market capitalization of more than 5 billion euros and shown a 100-percent growth for several consecutive years, said Shi Zhengrong, Chief Executive Officer of Suntech Power.
But aside from Suntech, there are many players in China's solar arena, and both industry insiders and local governments are pushing to grow more of this green energy.
Enormous production capacity
China has enormous low-cost manufacturing capacity, with more than 1,000 megawatts (MW) coming online over three years, and the entire solar food chain can now be found within China, including polysilicon feedstock, wafer, cell and module production, and domestic wet-chemistry and equipment suppliers, said Jesse W. Pichel, Senior Research Analyst of Piper Jaffray. Solar companies in China have focused on module capacity serving historically as outsourced module-manufacturing partners. The module capacity of 450 MW will rise to 1,200 MW by 2008. Wafer capacity of 100 MW in 2005 will grow to about 800 MW by 2008 thanks to the production ramp of domestic polysilicon supply, as well as large poly supply contracts beginning in 2008.