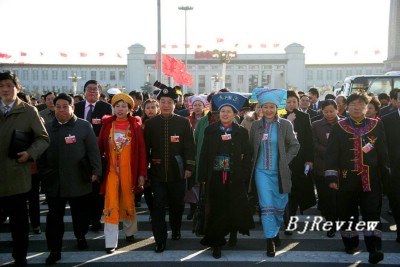 A fairer distribution of China's growing wealth topped the agenda of this year's annual meeting of the National People's Congress (NPC), which was held between March 3 and 16.
The government introduced a raft of measures aimed at providing medical treatment and better education for poorer areas, as well as increasing rural employment opportunities and assisting disadvantaged urban groups.
March is a good month to get a comprehensive picture of China's policy changes at the highest level. The annual session of the NPC, the country's top legislature, usually takes place in March and lasts for about two weeks, when NPC deputies, nearly 3,000 in number, meet in Beijing to review the premier's work report, the budget and the work reports of the Supreme People's Court and the Supreme People's Procuratorate.
If you do not have two weeks to closely follow the agenda of NPC sessions, an easier way to get information about any change in China's official line is to spend some time reading the Central Government's work report that the premier delivers at the opening full session of the NPC.
The catchphrase for this year's work report was "people's livelihood." It was made very clear in this year's document that the Central Government will focus greater importance on improving people's livelihoods in the coming year. "Issues that concern people's interests most will be actively addressed so as to maintain social fairness and justice and enable the whole population to enjoy the fruits of reform and development," said the work report.
Asked to comment on the government's work report, an NPC deputy from west China's Shaanxi Province, Li Pengde, walking out of the conference hall after the NPC opening session, said he was impressed by the government's commitment to improving ordinary people's lives. "The government is indeed spending money generously on people," he said.
Speeding ahead with an average economic growth rate of around 10 percent for almost three decades, China has experienced incredibly rapid economic growth, but sometimes at the expense of social equality. Now the government seems to be shifting its focus from baking a bigger cake to giving everyone a fair slice of it.
The last two decades have seen a surge in public complaints about unaffordable education, lack of medical treatment, unemployment, soaring house prices, a widening wealth gap, corruption and food safety concerns, which are partly the by-products of China's market-oriented reforms. The country's gross domestic product (GDP) for 2006 was 20.94 trillion yuan, double that of four years previously. Now the government is hoping that sound economic performance will provide the foundation for an improvement in people's standards of living across the country, rather than for a wealthy few.
One of the six chapters of the government work report, which comprised a quarter of the whole report, entitled "Promoting the Construction of a Socialist Harmonious Society," was dedicated to measures addressing problems faced by China's poor, including education, health care, employment, social security and work environment safety.
Fattening education bills
Speaking at a news conference for the NPC session, Minister of Finance Jin Renqing said twice that the central treasury was more than happy to pay the costs of education.
An educational bill introduced by the Central Government in 2005 exempts rural students from paying tuition fees for their nine-year compulsory education. Under new plans, students from poor rural families at primary or junior secondary schools will now be eligible to receive free textbooks and a subsistence allowance from the government. And the free nine-year education program introduced two years ago will be expanded to cover all of the 150 million rural students in primary and junior secondary schools.
Wang Xinqiong, an NPC deputy and government official from a township in the southwest of China, said that the well-intentioned government attempt to widen education had brought her mixed feelings of happiness and concern. Since exemption of tuition fees in Sichuan, Wang's region, the province has experienced a sharp rise in enrollment of students at primary schools and junior secondary schools, which has led to overcrowding and a shortage of teachers. She said nearly 7,000 primary school and junior secondary school students could not return to campus at the beginning of the new semester in 2006 because of a shortage of classrooms.
The Chinese Government is taking measures to address the problem of strained school facilities and a shortage of qualified teachers in rural schools. Between 2006 and 2010, the central treasury has planned an investment of 10 billion yuan to upgrade facilities for rural junior secondary schools. To guarantee the supply of enough qualified teachers, this year's work report introduced a policy of offering free education to all students majoring in teaching at the six normal universities under the administration of the Ministry of Education, which are also the best normal universities in China. This could lead to the recovery of a tradition of free education for future teachers that was started in the 1940s and lasted for about five decades. President of Inner Mongolia University Xu Rigan said this policy would help the teaching profession to attract talented teachers from poor families, improving China's education quality as a whole.
For students from disadvantaged families, besides basic education the government is offering increased financial support to help them finish vocational and higher education. The Central Government is paying a fattening bill to establish state scholarships and stipends in senior high schools and vocational academies, expected to jump from 1.8 billion yuan in 2006 to 9.5 billion yuan in 2007 and 20 billion in 2008.
Social security breakthroughs
The total population of China will be covered by government-subsidized medical insurance by 2010, a goal that was unimaginable four years ago. Before pilot programs of a rural cooperative medical care system were initiated in 2003, China's 900 million farmers, about 70 percent of the total population, had mostly not been covered by medical insurance of any type and were unable to afford one-off payments for medication or medical treatment.
In the latest work report, Premier Wen Jiabao said that the government aims to enlarge the rural cooperative medical care system's coverage to more than 80 percent of counties throughout China during the year. In order to guarantee farmers quick and convenient access to medical resources, the Central Government has vowed to support the cause of maintaining at least one public hospital for each township and at least one public clinic for each village. The central treasury will provide subsidies to rural central and western regions of 20 yuan per person every year while offering subsidies to eastern regions according to necessity. In 2007, the total Central Government subsidy for medical care will be increased to 10.1 billion yuan from 4.3 billion yuan in 2006. The Central Government at the beginning of 2006 decided that basic coverage for rural residents would be realized by 2008.
Also introduced in the work report, this year will witness the creation of a new government-subsidized medical insurance program to cover urban residents who fall outside of the urban employee medical insurance plan. The new program, which will cover juveniles and adults out of the labor market among the urban population for the first time, will provide people with security against major diseases and offer government subsidies to disadvantaged groups.
Speaking at a press conference on March 11, Vice Minister of Labor and Social Security Liu Yongfu said the new medical scheme for urbanites would be put in place during the 11th Five-Year Plan period (2006-10). That means 2010 will be the deadline for the medical care coverage for the total population of China.
Another groundbreaking policy introduced in the work report was a plan to set up a minimum living allowance system for rural residents, for which the Central Government has earmarked funding of 3 billion yuan in 2007. Vice Minister of Civil Affairs Li Liguo said at a March 11 press conference that the system was expected to come into place in the first half of the year. A total of 30 million farmers are expected to benefit from the minimum living allowance system this year.
Along with the urban subsistence allowance system, which was initiated in 1997, the whole population of China will be included in the subsistence allowance system in 2007. By the end of 2006, urban residents receiving subsistence allowance had reached a total of 22.41 million, at an average monthly standard of 169.6 yuan.
In outlining economic statistical goals for 2007, Premier Wen said China plans to create 9 million new jobs in cities and townships in 2007 and keep the registered unemployment rate in cities and townships below 4.6 percent. The two figures for 2006 are 11.84 million and 4.1 percent respectively. Although the goals for 2007 are relatively conservative, they are based on a recognition of mounting pressure in China's employment market. Statistics from the Ministry of Labor and Social Security show that as many as 24 million new jobseekers are expected in cities and towns across China this year, including an unprecedented stock of 4.95 million new graduates.
To guarantee completion of all these goals, the government has allocated 201.9 billion yuan for social security and employment promotion from the central budget in 2007, which is an increase of 13.9 percent on 2006.
Still not enough money
According to Wang Yingfan, a deputy and a retired diplomat, "For the time being, the development gap between western areas and eastern areas has been enlarging rather than narrowing, which should be addressed by concrete measures. The budget report has failed to invest enough money into improving rural areas and people's livelihood." He suggested that the treasury budget should lean further to underdeveloped areas and disadvantaged social groups.
Lack of quality educational and medical resources in rural areas was the most complained about issue among deputies at the NPC session. The main reason, they said, was that talented people were unwilling to work in rural areas.
"If a student from a rural area is admitted to an agriculture-related major at a university or admitted by a college of agriculture, the state should pay all tuition fees as long as he or she would come back to work in a rural area," said Chen Zemin, a deputy and founding president of a private frozen food company. "To encourage university graduates to work in rural areas, the government should pay them salaries to make sure they can earn more than from working in cities."
A large number of rural hospitals and schools are running on debt due to insufficient subsidies from local county-level or township-level governments, which might also be running on debt. A prevalent social problem in these areas is that staff in hospitals and schools are poorly paid and sometimes do not even receive their pay on time.
Many deputies suggested that the central treasury should write off the educational debts of rural areas, raise the salary level of medical staff and teachers working in them and write their salaries into a treasury budget plan.
Many of the government's plans are aimed at reducing China's wealth, or standard of living, gap. Speaking at the press conference during the NPC session, Ma Kai, Chairman of the National Development and Reform Commission, said everyone in the country could feel a rise in their living standards. However, he admitted that income gaps are still wide between different geographical regions and between urban residents and rural residents, with a fairly chaotic income distribution system and a significant black market in operation. "But it is no more than a problem of progress and growing pains," he added.