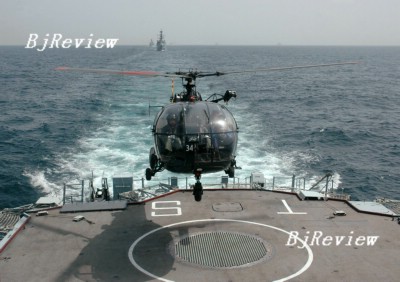 For the first time, Chinese warships have taken part in a multinational naval exercise hosted by a foreign country, which is aimed at improving the capacity to fight maritime terrorism.
Twenty-three warships from nine countries--China, Bangladesh, France, Italy, Malaysia, Pakistan, Turkey, Britain and the United States--participated in the weeklong exercise from March 6-13. In addition to the participating countries, 24 nations sent observers to the event, which was hosted by Pakistan.
The Chinese task force, composed of two guided missile frigates, Lianyungang and Sanming, left the port of Ningbo in east China's Zhejiang Province on February 19 and arrived at the Karachi naval shipyard 14 days later.
The Chinese warships were involved in target practice on March 8 and successfully organized a maritime search and rescue mission on March 9, as the multinational naval exercise "Aman 07" in the North Arabian Sea entered the sea phase.
"It is an opportunity to enhance mutual understanding and cooperation among friendly navies and to benefit from each other's experience," Qiu Yanpeng, head of the Chinese task force, told Beijing Review before the sea phase started.
"Aman" means peace in the Urdu language. According to the Pakistani Navy, "Aman 07" aimed to display a unified force against maritime terrorism and drug and weapon trafficking and to build the capacity to conduct multinational exercises.
During the four-day sea phase, 15 exercises were scheduled, including attacking fast-moving targets, shooting targets at sea, landing helicopters and conducting a joint search and rescue mission. The Chinese Navy took part in 12 exercises, in addition to organizing the search and rescue mission.
Although this was the first time the Chinese Navy has participated in such a multinational naval exercise, in the surface firing exercise, the first shell from a Chinese frigate successfully hit and sank the "target."
The Chinese Navy operated its programs very well, Admiral Muhammad Afzal Tahir, the Chief of the Naval Staff, told Beijing Review after reviewing the fleet.
"I am grateful for the Chinese Navy's response to the Pakistani Navy. I feel the exercise is like a bridge that further enhances the communication and understanding between our two forces," Pakistani Vice Admiral Asaf Humayun Hi told Beijing Review.