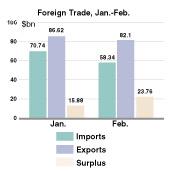 TO THE POINT: The Chinese stock market rebounded from an 8.8 percent plunge on February 27 and stayed relatively firm, with the Shanghai Composite Index holding around 2950 points, even though daily fluctuations were sharp. Experts believe the market is readjusting itself and hope it will now be on a healthy track. The stock market and the insurance industry will face strict anti-money laundering probes by the government this year as part of China's effort to join the Financial Action Task Force on Money Laundering. Meanwhile, bank loans grew rapidly in February, leading to excess liquidity, which may pose financial risks, analysts said. Banks must also take care in issuing credit cards because there are risks of illegal activity or defaults. In terms of foreign trade, the Ministry of Commerce had reason to be upset as the February trade surplus surged about 50 percent from January's level despite the ministry's efforts to curb it. On March 1, India levied export duties on its iron ore, but that shouldn't have much of an effect on the Chinese iron and steel industry. Meanwhile, CPI in February was up a moderate 2.7 percent year on year, which indicates that inflation is still under control.
Stock Market In Full Swing
After the "Black Tuesday" drop of 8.8 percent on February 27, the Chinese stock market has picked up momentum and seems to be back on track. Despite the tumble, the benchmark Shanghai Composite Index was up 3.4 percent for the month of February. In the first half of March, the index managed to remain stable around 2950 points, despite some sharp intraday declines.
"I personally believe this (Black Tuesday) is not a problem on the macroeconomic level and should not lead to any major change in trends," commented Zhou Xiaochuan, Governor of the People's Bank of China, the central bank.
By "trends," analysts believe he meant the growth and bullish feature of the market. His words reassured investors in China's fledgling stock market, whose trading volume is only 3 percent of that of the New York Stock Exchange.
The previous market fluctuations, big or small, were an internal adjustment. Triggered by tales of success, people, many of whom know little or nothing about stocks or funds, rushed to banks or securities companies in the hope of getting a slice of the huge pie. However, the 8.8 percent plummet, the largest ever, scared many away, which to some extent has helped to clear out speculation and force novice investors to look before they leap.
The governor pointed out that China should strive to make its capital market "better and more internationalized."
Alarm Bells Ring on Money Laundering
Fighting money laundering is not a new issue for many Chinese industries, but this year the central bank is targeting the insurance and securities markets, which have long been neglected.
"We will start investigating money laundering in the securities and futures industry and insurance industry, and it has become one of the most critical elements for us to join the multinational Financial Action Task Force on Money Laundering," said Liu Lianke, the official in charge of anti-money laundering at the central bank.
For both foreign and domestic money laundering criminals, the securities market is considered to be an ideal tool to legalize the money. There is no clear evidence of money laundering cases in China, but the government and experts believe such conduct exists and want to crack down on it.
Too Many Credit Cards?
Chinese white-collar workers, apart from being "house slaves," have become "card slaves" too. "Card slave" is a new phrase coined by the Chinese media referring to those who live on their credit cards. They use credit cards from various banks to make their purchases, and at the end of each month they might find that the total amount they spent far exceeds their capacity to repay the debt.