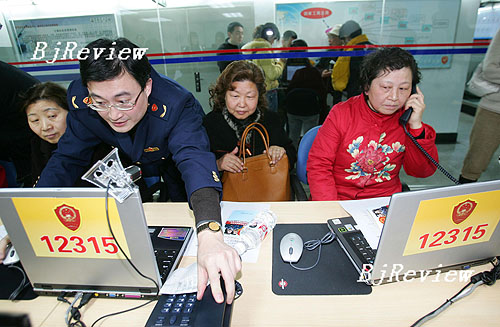 THE RIGHT TO COMPLAIN
With cash-flush consumers spending like never before, protection of consumers' rights and transparent monitoring of product quality is high on the agenda in China.
March 15 is International Day for Consumers' Rights Protection and to mark the occasion a dozen local citizens were invited to the command center of the Chongqing Municipal Bureau for Industry and Commerce to experience the process of handling consumers' complaints of both bad goods and services.
Here an officer with the command center demonstrates the procedures of taking a call via the 12315 hotline, a nationwide service helping to protect consumers' rights.
New anti-corruption bureau
A state-level agency specializing in graft prevention could begin operating this year. Besides tackling corruption at the source, Chen Changzhi, Vice Minister of Supervision, said the new bureau would also publicize anti-corruption information and educate government officials.
Xia Zanzhong, Deputy Secretary to the Central Commission for Discipline Inspection, was quoted as saying by the Beijing Times that the new agency has been given the go-ahead.
The new institution, which responds directly to the State Council, would help fulfill China's commitments to the UN Convention Against Corruption, which the country signed in 2005.
Bureau units would be established at the provincial level. Currently, anti-corruption bureaus are affiliated to the prosecutors' offices, the discipline committees and the supervision bureaus.
Blogs under supervision
China will draft new regulations to exert tighter controls over the growing number of blogs and webcasts, the head of the country's media watchdog said on March 12.
"Advanced network technologies such as blogging and webcasting have been mounting new challenges to the government's ability to supervise the Internet," said Long Xinmin, Director of China's Press and Publication Administration.
Long said the government was in the middle of drafting new regulations over Internet publishing, and blogs and websites that publish webcasts would fall under these regulations.
The number of bloggers in China had reached 20.8 million by the end of 2006, of whom 3.15 million were active writers, according to the China Internet Survey Report 2007 released earlier this year.
Improve local governments' innovation
China's Ministry of Science and Technology (MST) will help provincial governments to improve regional science and technology and enhance their independent innovation capability, said Minister of Science and Technology Xu Guanhua on March 13.
The MST signed an agreement with the Provincial Government of Henan in Beijing on March 13. Henan's agriculture and equipment manufacture industry will benefit from MST's technological support, says the agreement.
The MST has already signed a series of similar agreements with 12 local governments, including Xinjiang and Guangxi autonomous regions.
The MST will offer scientific and technological support for the development of industries with local advantages in Xinjiang, such as the petrochemical industry, cotton planting and livestock raising.
Career women's bother
Career women in Beijing dislike business trips most, according to a recent survey by the job hunting website zhaopin.com, the Beijing Daily reported.
Due to frequent trips, they are constantly put under pressure both physically and mentally. Their life habits are thrown into disorder. Being in different places, they have to get accustomed to the different climates, geographical features, living environments, as well as the different foods, which is detrimental to women's physical health.
Since most career women have to work overtime or go on a business trip from time to time, they do not have much time to stay with their family.
Apart from business trips, "sexual harassment from the boss" and "dining with male colleagues" were picked as the second and the third biggest problems, respectively, that bother career women.
Unsafe water tops environment fears
Unsafe drinking water in rural areas topped last year's environmental concerns, according to a report from a non-governmental organization based in Beijing.
About 320 million people, most of them farmers, still have no access to safe water, according to a recently released report entitled China's Environment in 2006: Changes and Struggles.
The report said farmers in northern areas suffer from water shortages, while in eastern areas water quality is not up to acceptable standards.
Government statistics show that 96 percent of villages have no sewage and waste water treatment system, while 89 percent handle garbage without proper sanitation treatment.
The report has highlighted polluting factories as the major contributor to the deteriorating environment in rural areas. Lack of monitoring or investment in green technologies is also blamed for the poor state of the environment in the report.