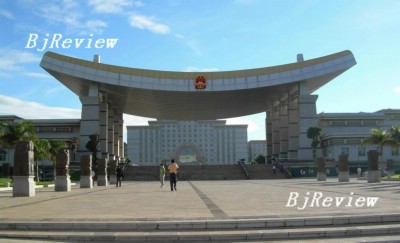 You Will Pay Your Taxes!
Since this year, the State Administration of Taxation has demanded those who have an annual income of 120,000 yuan or above to file tax returns to local tax bureaus. It is also stipulated that those who fail to do so by the deadline will be heavily fined and severely punished.
Why are citizens required to pay taxes? Essentially, tax payment means that citizens transfer a certain portion of their personal income and properties to the government in the form of a contract, in order that the government can use this payment to better serve the public. From this perspective, taxation in China lacks a firm legal foundation.
The primary basis for a citizen to pay tax is that his or her private property should be fully recognized and protected by the law. However, according to China's current statutes, people's ownership of their houses is valid for only 70 years, but still they have to pay all the relevant taxes, which means one pays tax for what is not his/her property.
What's more, taxpayers and government are equal parties in negotiation, that is, the government should not give orders to tax payers as if the latter are subordinates. It seems that some taxation officials, however, always turn to pressurizing and sometimes even threatening taxpayers.
As far as taxation is concerned, more explanation and dialogue between the government and taxpayers is needed. Government officials should also take the initiative in reporting how they are going to use tax revenues. Only in this way can we expect all taxpayers to file tax returns to the state of their own free will.
China Youth Daily
Nothing "Modern" About Corruption
Luxurious government buildings, particularly in the poorer areas of China, are increasingly becoming targets of criticism for being out of step with the surrounding environment.
The local governments that operate from sumptuous office high-rises share the same reason for their new working conditions-modernization. Throughout the world, no other country relies so much on new buildings to show how modern they are. If luxurious government buildings are the most modern construction in an area in China, you can bet your last yuan it is a backward area.
In fact, what really interests the officials is not modernization, but the modern facility these buildings will offer.
In some sense, this is corruption, an open corruption, as although the money does not fall into officials' personal pockets, they have luxurious edifices built for their own good, not for the people.
Why is it possible for this phenomenon to emerge and even spread across the country? Simply put, it's because officials have too much power and decision-making in their hands. It's too easy for them to have access to public funds. Besides, departments that are supposed to supervise local governments are not only failing in their duty, but are in fact enjoying these palatial surroundings together with government officials.
As the situation is becoming increasingly serious, all supervisory departments, especially people's congresses at various levels, must take tough action. At the very least, procedures for governments to use national and local financial revenues must be made more difficult. Without strict budgeting, no permission, whatever the excuse, should be given.
The Beijing News
Remember Rural Women
Around this year's International Women's Day, all kinds of interesting activities were seen in cities across China. Yet comparatively speaking, women living in rural areas, are not so lucky.
Despite improvements in their rights, rural women's status in family and society as a whole is still low. Women work as hard as men in the fields, but they also have to do all the housework after a day's work. Moreover, female members in a lot of families usually have no say in important issues. When their husbands have left for cities to do temporary work, all the family burdens, including care for the young and the old and farming work, are all left to the women.
It's necessary for the whole society to do more tangible work to help rural women.
Beijing Youth Daily
Schools Need Teaching Not Bigger Buildings
This year, the government plans to allocate 223.5 billion yuan to rural education, up 39.5 billion yuan on 2006. Also, 10 billion yuan is expected to be invested in improving the facilities of junior middle schools in rural areas over the next five years until 2010.
Education is the foundation of national development and to increase input is undoubtedly the most effective support for this cause. Equally important is that the financial input should be used where it is most needed.
Whether the financial allocation will be used in teaching-the most important function of schools-remains a big question. In recent years, schools across the country have been trying to expand their classrooms and increase facilities and some are so heavily in debt that they are actually bankrupt. The worry now is that if these large amounts are embezzled from the Central Government allocation, it will do little to improve teaching quality, but will instead make it easier for schools to expand the size of their campuses.
Thus, it's crucial for the state to keep a close eye on how the financial input is used, so that the limited resources can be invested in the improvement of schools' teaching quality and the overall development of students, which is much more important than campus construction.
Shanghai Securities News