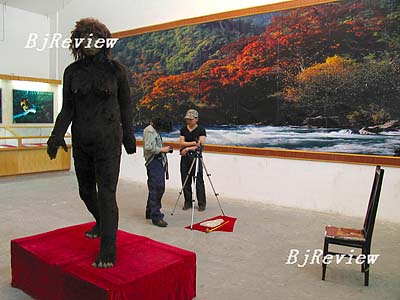 The legend of a giant half animal, half human creature roaming the Earth has been around since the mid-19th century, with sightings having taken place on almost every continent. Generally described by witnesses as being between 2-3 meters tall, over 230 kg and having a footprint in the region of 30 to 40 cm long, the creature is known by many names. It's referred to as Bigfoot in the United States, Mapinguari in the Amazon, Sasquatch in Australia and Yeti (Abominable Snowman) in Asia.
In China, locals in Shennongjia, a scenic spot in central China's Hubei Province, have reported seeing their own bigfoot, and named it yeren (wild human) as its known in Chinese, in the forests of the region since the 1970s. On November 18 four tourists claimed to have seen two yeren in Shennonjia, the latest sightings since 2003.
New sighting
The Hubei-based Changjiang Times reported on November 20 that four tourists to Shennongjia said they had seen two giant, dark figures, described as wild men, standing behind a confusion of shrubbery near the Licha River, a river runs through the scenic spot, some 50 meters from their vehicle. It seemed that the two creatures did not see their car at first, but once alerted fled into the dense forest.
Later that day, these tourists, accompanied with two local forest rangers, returned to the spot where the yeren appeared, to find footprints, broken branches and wild fruits scattered on the ground.
Four days later, an investigation team sent by the China Association for Scientific Expedition (CASE) conducted a thorough investigation of the location. Scientists found two visible footprints, one 30 cm long and one smaller in size.
After several days of investigation and analysis of the site, scientists said that the description of the witnesses tallies with the evidence they found and they also excluded the possibilities of wild boars or big bears.
But the investigation team told the media they could not categorically confirm that the footprints were made by the so-called yeren.
"Precisely speaking, the sighting incident can however be defined as witnessing of an upright human-like animals, judging from the evidence at the site," said Xu Xiaoguang, a member of the investigation team on his own blog.
According to You Wenhai, another member of the investigation team, they saw many broken branches and vines around where the creatures were said to have been spotted. The way the site was left and the depth of the footprints show that the creatures had rushed away after being frightened, he said.
"Judging from the traces of footprints, we can say that they are left by a kind of upright animal, with a height of between 1.75 to 1.80 meters," You said.
You said that while he was not sure if these were ye ren, he is sure they were not human, comments which were echoed by Luo Yongbin, an officer of the information department of the Shennongjia scenic area government.
Luo has also recently revealed that the investigation team found strands of soft, white, 2-cm-long hair on the broken branch at the site. Believing that these white hairs could not be from the creatures, scientists will need to subject the hair to more examination.
He said that if the study result shows that the hairs are from an animal similar to humans, but as yet not discovered, it would be a major scientific breakthrough.
Important implications for science
According to statistics, more than 400 people claimed to have witnessed some giant ape-like or human-like animals in China, but to date no tangible evidence has been found to confirm the existence of yeren.
Sighting incidents have been reported in 1976, 1993 and 2003 respectively, all in the Shennongjia area.
In 1977, a large-scale scientific expedition team composed of over 100 Chinese anthropologists, zoologists, botanists and geologists went to Shennongjia's virgin forest to search for possible traces of yeren.
"Although scientists failed to physically see any yeren, they did collect lots of hair and excrement suspected of belonging to a certain kind of yeren, and spoke to many witnesses. The findings of authoritative institutions prove that the hair found is not from humans or apes," said anthropologist Wang Shan.
In the last 30 years, the mysterious Shennongjia scenic area has attracted numerous scientists both from China and other countries, searching for the legendary yeren.
Wang Fangchen, an ecologist who participated in the expedition that searched for the yeren, said the primary reason for research is to find proof that humans are evolved from apes, adding that as one of the stages in Charles Darwins's theory of evolution from ape to man is missing, what they find in Shennongjia may be of vital importance.
Skeptics abound
As with all things scientific, there are bound to be skeptics. In this case they argue that the only reliable evidence for the existence of yeren is live or dead bodies, or relatively complete skull or bones of limbs. But up to now, such kind of evidence has not been found.
Some scientists believe that to survive and multiply, the so-called yeren would need enough food and a community. But according to the law of geographical distribution of animals, it is impossible for such kind of creatures to exist.
Zhou Guoxing, a researcher at Beijing Museum of Natural History, who has over 40 years of experience in anthropological study, said that he had researched almost all the sites where so-called yeren had been reportedly sighted, and the results concluded that most of those examinable were bears or monkeys.
Despite this, Yuan Zhenxin, an anthropologist and Director of the Committee for Strange and Rare Animals under the CASE, said it is very possible that yeren could be the close ancestors of humans.
He takes China's pandas for example. "If expeditioners had not been to forests in Sichuan and Shanxi provinces, we would not have found the offspring of ancient pandas. It took humankind a decade to discover pandas," Yuan said.
It is because of an increase in environmental awareness that more space is now available for these creatures to multiply and survive, said Yuan. He is confident that the mystery of yeren will be unveiled sooner or later.
Guo Jianwei, Editor in Chief of the Fossil magazine of China, has over the years moved from being skeptical to accepting that some kind of yet to be discovered creature does exist. "After I went to Shennongjia and researched the ecological environment, I changed my view," he said.
According to him, the Shennongjia forest area covers over 3,000 square km, with a complex natural environment and ideal climatic conditions for animals. "It is very possible for unknown species to live in the dense forest or remote caves there," Guo said.
Whether wild human, part ape-part man, or giant animal, it seems clear that scientists are committed to finding the origin of the human race and for now, investigations continue.
A Brief Introduction to Shennongjia
Located in the western part of central China's Hubei Province, Shennongjia covers an area of 3,250 square kilometers.
It is famous for its marvelous natural scenery, rare plants and endangered mountain animals.
It has maintained the richest ecological system in the world compared with other areas located at the same latitude.
In recent years, Shennongjia has also gained fame as the home of the mysterious yeren, or Chinese Bigfoot. Rumors abound and stories of yeren have only added to the appeal of this remote area.