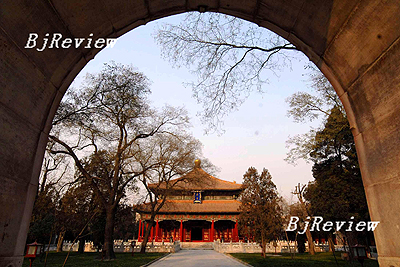 DISCOVERING BEIJING
Unlike the Lama Temple of Beijing, which is overwhelmed with the clamor of visiting crowds and commuters in and out of the nearby subway station, the Imperial College, or the Guozijian, though in the same neighborhood, nestles in tranquility and relative "obscurity." Outside of the Imperial College are alleys permeated by traditional Chinese culture, crisscrossed by a few surviving ancient archways. The entrance of one alley is guarded by a stone stele, scripted with a royal command ordering all passersby on their feet. Even high-ranking officials had to dismount from their horses to pass by the front gate of the Imperial College.
Built in 1306, the Imperial College is the oldest academy in China. It also served as the education administration agency of central authorities. Many instructors there were also officials on the government payroll.
The Imperial College is rectangular compound that covers an area of 30,000 square meters. At the center of the compound is Biyong Palace, where the emperors gave lectures. The square-shaped palace is encircled by decorated corridors and ponds. Architectural historians have listed Biyong Palace as one of the six greatest palaces in Beijing. The palace is flanked by classrooms on each side, which are symmetrical across the central axis. To the north are seven rooms that used to be the library.
The college was the place where talents met and exchanged knowledge and cultures. Students were selected from all over China, and there were also international students, from areas that are now known as Russia and Burma.
The students lived a Spartan lifestyle. The monthly living stipend from the government was only enough to make ends meet. When school was in session, the students were confined to the academy. If they had to step out, they had to "punch" a card. Students who disobeyed their teachers or were lazy or cocky were strictly disciplined or even physically punished.
On the east side of the college is a Confucian temple, where feudal emperors paid homage to Confucius. Between the college and the temple stand the heaviest books in the world. The texts of 13 Chinese classics have been written on 189 stone columns, each with a height over 2 meters. It took calligrapher Jiang Hengguang 12 years to write the 630,000 Chinese characters. The spectacular books were put there in 1794.
The Imperial College has been renovated many times, including the overhauls in 1938 and 1950. To greet the Beijing Olympics Games in August, it will put on a "new face."
Add: 15 Guozijianjie, Andingmennei, Dongcheng District
Tel: 010-84011977