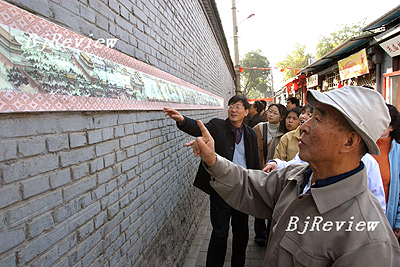 HUTONG HISTORY: At a culture festival held in Beijing's hutongs, tourists examine a scroll depicting the Forbidden City
Dongcheng District, literally meaning eastern city, covers Beijing's downtown area to the northeast of the central axis of old Beijing. The district has a total area of 25 square km and a population of 600,000.
With a large number of cultural and historical sites and tourist attractions, Dongcheng District is a great place for visitors, who can tour the Forbidden City, Tiananmen Square, the Lama Temple, the Bell-and-Drum Towers, the Imperial Academy, the Beijing Ancient Observatory, the Temple of Earth and Zhongshan Park. Sixteen historical and cultural sites in the district are under state protection, accounting for 37 percent of total such sites in Beijing. Built in 1406 in the Ming Dynasty (1368-1644), the Forbidden City once served as the residence and office of 24 emperors. Tiananmen Rostrum has witnessed many parades and rituals. It is the place where Mao Zedong, the late Chinese leader, proclaimed the founding of the People's Republic of China on October 1, 1949. In addition to these ancient palaces and temples, visitors can also take a stroll in many famous hutongs that zigzag their way across the district. Art and history lovers will have fun in the National Art Museum of China, Beijing Arts and Crafts Museum, Chang'an Grand Theater and the National Museum of China.
Crowds of shoppers are drawn to the bustling business centers in Dongcheng District, the most famous of which are Wangfujing Street and Dongdan. Older department stores mingle with modern shopping malls and plazas. Shoppers, regardless of their tastes, can find the things they like in Wangfujing Department Store, Sun Dong An Shopping Center, Oriental Plaza, Oriental.Kenzo and Beijing Arts and Crafts Store.
Dongcheng District is not only about culture and leisure, but also about politics and business. A number of government ministries have their offices in the district. Lining East Chang'an Avenue and the East 2nd Ring Road are landmark buildings housing the headquarters of famous organizations and companies. Some multinational companies also choose Dongcheng District as home to their subsidiaries in China. Also in this district are some of the best hospitals in the nation, including Beijing Union Medical College Hospital, Beijing Hospital and Beijing Tongren Hospital.