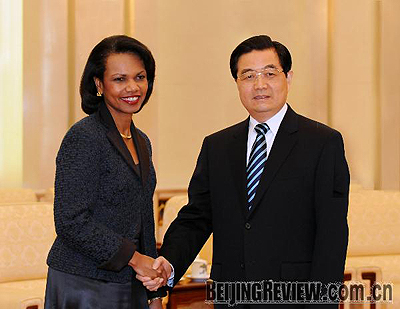 When meeting with Chinese leaders, U.S. Secretary of State Condoleezza Rice said that Washington remains opposed to the "referendum on Taiwan's UN membership," supports the Beijing Olympics and recognizes China's role in critical international issues, including Darfur and North Korea. Rice reassured China with these compelling statements, among others, during her recent trip to Beijing in late February.
The United States adheres to the one-China policy and opposes the proposed "referendum on Taiwan's UN membership," Rice said while meeting with Chinese Foreign Minister Yang Jiechi on February 26.
Washington stands against any unilateral change in the status quo across the Taiwan Straits. It believes that the referendum, scheduled for March, will not be constructive to any side and should not be held, she added.
The United States is opposed to politicizing the Beijing Olympics, Rice said, adding that U.S. President George W. Bush and his family looked forward to attending the opening ceremony in August.
When meeting Chinese leaders, Rice praised China's effective role in resolving the Darfur issue.
In his talk with Rice, State Councilor Tang Jiaxuan said that China would maintain its coordination with all the other parties on the North Korean nuclear issue and jointly push forward the six-party talks aimed at resolving the issue.
While applauding the cooperation between China and the United States on political, economic and military fronts and on international issues, Rice and Chinese leaders agreed to further the two countries' "constructive and cooperative relations."
In a meeting with Rice, President Hu Jintao spoke positively about the Strategic Dialogue and Strategic Economic Dialogue mechanisms between the two nations. He also underscored the recent development of the two countries' military exchanges.
"Effective outcomes" have been achieved in China-U.S. bilateral cooperation and their coordination in global issues such as antiterrorism, trade, energy and environmental protection, he said.
Hu said 2008 would be a very important year for China and the United States. The two countries should intensify dialogues to increase mutual understanding and trust, and address bilateral issues of mutual concern, he added.
Premier Wen Jiabao told Rice that China was ready to make concerted efforts with the United States to promote world economic growth and maintain the stability of world financial markets.
Wen promised that China would continue to take positive measures to address the concerns of the United States. China also hopes that the United States further opens its markets and lifts limits on hi-tech exports to China, he said.
Rice said there has been a tendency toward economic nationalism and trade protectionism in the United States, but Bush firmly upholds free and just trade and is committed to promoting U.S.-China economic relations.
Rice and her Chinese counterpart, Yang Jiechi, reached a consensus on resuming the China-U.S. human rights dialogue. China suspended the dialogue in 2004 when the United States decided to introduce a China-related human rights motion at the 60th session of the UN Commission on Human Rights.