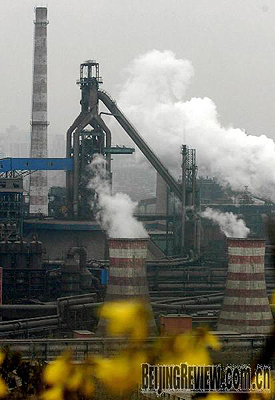 Guan Guohua, Chairman of Shanxi Jinyun Iron & Steel Co. Ltd., never imagined that one day his company would end up on a credit blacklist. Recently banks stopped granting loans to his company not because of any problem with its credit, but because of what it produces. The company produces pig iron and coke, qualifying it for addition to a blacklist by the environmental watchdog because of pollution.
The State Environmental Protection Administration (SEPA), the People's Bank of China and the China Banking Regulatory Commission (CBRC) jointly issued the "green credit" policy last July. The green credit policy is aimed at curbing loans issued to projects that have the potential to damage the environment and imposing high interest rates to punish polluters. The SEPA reported more than 30,000 pollution violation cases to the central bank.
A chemical company in Anhui Province has found itself in even more difficult circumstances. The banks not only stopped loaning to the polluter but also recalled the 5 million yuan ($0.7 million) in loans already on its account.
According to Pan Yue, Vice Minister of the SEPA, 12 heavy polluting companies have had crucial bank loans recalled, suspended or rejected since the green credit policy became active.
"The implementation in the past six months shows the policy is conducive to improving the efficiency of environmental supervision, and helps lower the cost of environmental administration and shun lending risks," said Pan.
Making it green
"The severe state of China's environment prompted us to introduce the policy," said Pan Yue, an ambitious advocate of tougher environmental controls. He believes that it is imperative to take tougher measures to limit and check emissions by enterprises and construction projects.
"The emission-reduction measures of a few specialized agencies are limited, and we must unite with more macroeconomic departments," Pan said.
The green credit policy has won the support of the central bank and the CBRC. The SEPA, the central bank and the CBRC jointly issued a proposal on the implementation of policies and regulations related to environment protection and the prevention of credit risk, advocating stricter credit checks on companies that do not pass environmental assessments or fail to implement environmental protection regulations. These policies are meant to limit the expansion of energy-consuming, heavy-polluting industries.
The China Development Bank (CDB), the Export-Import Bank of China (EIBC) and the Agricultural Development Bank of China (ADBC), China's three policy-oriented banks, play a leadership role for other commercial banks when carrying out national macroeconomic adjustment policies.
CDB set up a special loan for energy conservation and emission reduction to implement the green credit policy last year. The loan is aimed at supporting industrial pollution controls, urban sewage treatment and recycling, urban solid waste management, and promoting overall water treatment at Taihu Lake and Caohu Lake. By December 2007, the bank still had 89 billion yuan ($12.5 billion) of unused environment protection loans, up 34 percent year on year.
The bank pledged to adopt stricter environmental assessment standards and support and guide enterprises in the use of environmentally friendly and advanced technologies and equipment when granting the special loan this year.
The EIBC will also continue to adjust and improve policies and regulations related to the green credit policy. The bank established a loan withdrawal mechanism to avoid environment protection risks last year.
And according to ADBC Governor Zheng Hui, ADBC will favor growing niche companies in agricultural industrialization this year, especially "green" pork, edible oil and diary product processing companies.
Influenced by these policy-oriented banks, the Industrial and Commercial Bank of China (ICBC) will continue to support the green credit policy and put loan growth under strict control.
ICBC labeled companies qualified for green credit while assessing their loan applications, compiled a database with information on the environment protection history of their clients, and classified clients based on their environmental risks in 2007. They vetoed credit applications of all projects that failed to implement environmentally friendly industrial policies or failed to meet energy-consumption and waste-emission standards that would possibly endanger the environment.
Currently, ICBC has initially completed the database chronicling its clients' environmental risks. Of its nearly 60,000 corporate clients that still have unused loans, about 47,000 have labels to indicate their environment protection status.
Problems ahead
Despite some progress since the launch of the green credit policy in