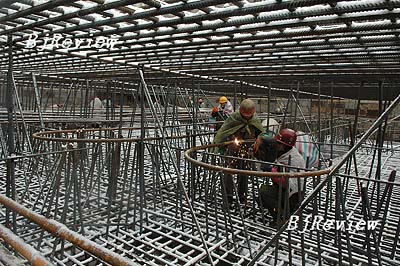 Sufficient Nuclear Power Material
China National Nuclear Corp. (CNNC), the leading domestic nuclear power conglomerate, told Xinhua News Agency that it had verified the largest uranium ore deposit in the Ordos Basin in the northern Inner Mongolia Autonomous Region.
The company did not disclose the proven uranium ore reserve amount.
"The newly proven uranium amount each year in China is larger than the country's demand, so it is not only sufficient to meet current demand but also lays a solid foundation for Chinese nuclear power development for the long run," said Wang Sen, a senior executive member of the CNNC.
Under the government's plan, China will have an installed nuclear power capacity of 40 million kw by 2020, accounting for 4 percent of the total.
Opening Up of the Banking Sector
More than 20 foreign banks had received permission to operate on the Chinese mainland with corporate status as of 2007, according to statistics released at a recent forum on foreign banks. The most recent case involved Venshtorg, Russia's biggest bank, which opened its first Chinese branch in Shanghai on February 26.
The banks, including Citibank, Deutsche Bank, Standard Chartered Bank and Mizuho Corp. Bank, may conduct comprehensive business in foreign currencies and the renminbi. That includes renminbi business for Chinese residents, according to the Administration Rules on Foreign Banks.
Narrowed Trade Surplus Expected
Experts predict China's trade surplus growth will slow this year, as exports could face "overlapping negative elements," but the surplus is set to stay high.
The government introduced measures to curb the growing surplus, such as scrapping tax rebates on high-polluting exports and imposing tariffs, last year, which will continue to hit exporters in 2008.
Price increases for labor and materials, such as oil, steel and plastic, reduced many exporters' profit margins last year, in particular those specializing in labor-intensive industries.
Reports said labor costs in China have increased to $0.77 per hour, compared to $0.35 in Vietnam. Meanwhile, some experts said a possible recession in the United States this year could affect China's exports.
Domino Price Hikes
Higher raw material costs are forcing Chinese white goods manufacturers to raise prices, with an industry analyst predicting a spate of price rises in May.
Haier, one of the leading domestic white goods manufacturers, has raised its prices on goods, mainly washing machines and refrigerators, by 5 percent to 10 percent.
White goods manufacturers suffered from an iron ore price rise, as steel is the main raw material.
China's steel makers agreed to pay a massive 65-percent rise in iron ore prices last week. The runaway iron ore price pushed steel prices up significantly. Prices of major types of steel increased by 400 yuan ($55.60) to 500 yuan ($69.40) per ton in China in February.
Financial Services in an Electronic Age
The annual forum of the China Electronic Commerce Association participated by representatives from all the large commercial banks in China announced that electronic financial services in the country will embrace a major boom propelled by the opening of China's financial sector and the Beijing Olympic Games.
Official statistics show that the online banking services of China's four largest state-owned commercial banks had nearly 75 million customers who traded a total of 95 trillion yuan ($13.2 trillion) in 2006.
More than 10 financial companies, including Industrial and Commercial Bank of China, Construction Bank of China, Southern Fund and PICC Property and Casualty Co. were awarded "Best E-financial Brands" by the forum. Four banks, Construction Bank of China, Agricultural Bank of China, China Merchants Bank and Guangdong Development Bank, launched new online banking services designed especially for cell phone users.