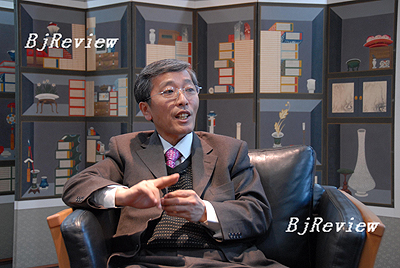 They are 36 Chinese stratagems used to illustrate stratagems for warfare and civil interactions, the last of which states, "If everything fails, retreat."
This traditional wisdom seems to have inspired some South Korean entrepreneurs in China. On January 12, some 10 South Korean executives at Segang Textile in Yantai, Shandong Province, fled in the dead of night, leaving behind unpaid debts and a venture with about 3,000 workers, according to the Beijing-based newspaper Global Times. In terms of the employees, Segang Textile is the largest South Korean-invested company whose management has recently fled China. The company, which started operating in Yantai in early 2001, is mainly engaged in making clothes, dyeing fabric and processing fiber.
Global Times quoted sources as saying that contractors and lenders to whom the company owed money broke into Segang Textile on January 11, demanding that they be paid. Segang Textile owes 30 million yuan ($4.2 million) to local contractors and 15 million yuan ($2.1 million) to banks. Believing that their safety was under threat, the South Koreans packed their bags for a hasty departure.
Segang Textile is not an exception. Media reports say that slews of small South Korean companies are abruptly leaving China without going through proper liquidation procedures. But business observers say these firms cannot avoid financial failure, given the recent changes in China's business environment.
Small firms' woes
According to South Korean statistics, some 10,000 South Korean-funded companies are currently operating in China, mainly in Hong Kong, Guangzhou, Shanghai, Beijing and Tianjin, as well as Zhejiang and Shandong provinces.
South Korean Government investigations show that all business withdrawals are taking place in east China's Shandong Province. Geographically close to South Korea, the province is a popular destination for South Korean investors. In Qingdao, a port city in Shandong that is home to about 6,000 South Korean-funded businesses, between 30 and 50 Korean-run factories close each year. Most of the companies that quickly shut down after their executives leave unexpectedly are small labor-intensive firms that produce food, leather, clothes and toys.
While the South Koreans have been cashing in on China's cheap labor and preferential policies on foreign investment, they also suffer from their own mismanagement in China, some Chinese researchers said.
"These small companies have long suffered from management problems and a lack of capital and are extremely vulnerable to risks," said Zhang Liangui, a professor who specializes in Korean studies at the Institute of International Strategic Studies at the Party School of the Central Committee of the Communist Party of China (CPC). "As the business environment in China changes with the Chinese Government's fine-tuning of its labor and foreign investment policies, it is only natural that they go out of business."
While improving its economic structure, China has gradually removed many of its preferential policies for foreign-funded enterprises. Under China's new Enterprise Income Tax Law, which took effect on January 1, both domestic and foreign-funded enterprises pay the same amount of income tax. Previously, the tax rate for foreign-funded enterprises was much lower than for their Chinese counterparts.
In addition to recent wage hikes, China's new Labor Contract Law, which also went into effect in January, has increased companies' labor costs by requiring them to contribute to their employees' social security accounts.
"This is not a serious problem," Kim Kyung Jong, Minister Counselor at the South Korean Embassy in Beijing, told Beijing Review. "During this development stage, this kind of things happens all the time. As China develops and the wages of Chinese workers rise, Korean companies have suffered from their operations in China. Simply, they lose competitiveness."
Some companies from other countries and regions making low-value-added products in Guangzhou, capital of southeast China's Guangdong Province, are also moving to China's hinterlands or other countries such as Viet Nam where labor costs are lower, Kim said.
"China's economy is in an important period of structural adjustment," Chinese Premier Wen Jiabao told the South Korean media during an interview before his official visit there last April. "In the past, the preferential policies were based on differentiations between regions and between domestic and foreign-funded enterprises, but now they are primarily industry-specific."
China retains preferential policies for foreign-funded enterprises that operate in hi-tech industries, special economic zones and the