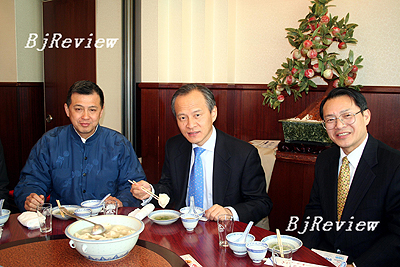 Dumplings, known as jiaozi in Chinese, are a kind of traditional Chinese food representing happiness, harmony and reunion. Many people buy frozen dumplings as a convenient fast food that they easily can cook in a few minutes.
But a food safety scare concerning Chinese frozen dumplings imported by Japan dispelled feelings of happiness and harmony between the two countries. Two batches of the frozen dumplings were reported by the Japanese media to have contained pesticides that caused 10 people to become sick with slight food poisoning.
Then Chinese officials recalled all frozen dumplings exported by Hebei Tianyang Food Company and cooperated with Japanese inspectors for investigation.
During the past weeks, many Japanese media published widespread reports on the dumpling issue, using phrases such as "poisonous dumplings" and "murderous dumplings," said the Guangming Daily, a Beijing-based newspaper. But they ignored the fact that inspectors had not yet issued any final investigation results. The reports not only caused panic among the Japanese who refused to buy and eat food from China, but also hurt Japanese importers and Chinese producers.
After a thorough investigation, China's General Administration of Quality Supervision, Inspection and Quarantine and Ministry of Public Security said at a press conference on February 28 that they found "no harmful chemicals in relative products and samples and no abnormal operations on the part of the Chinese producer." The dumpling-poisoning incident was proved a special case of sabotage, which unlikely happened inside China, said Yu Xinmin, Deputy Director of the Criminal Investigation Bureau with the Ministry of Public Security.
While the media sensation surrounding the issue could have had serious conse-quences on import-export business between the two countries, experts and media outlets in China pointed out that cooperation between the Chinese and Japanese governments on the issue set a good example for how they should deal with similar problems in the future. But they also stressed that in light of such events, the media should remain calm, fair and impartial in their reporting.
"Many Japanese media made more guesses than investigations," said a report in the Guangming Daily on February 16. "The Japanese media's concerns on this food safety issue are understandable, but their reports are not fair and square." There had been much speculation about the cause of the incident before government inspection teams issued their investigative reports. One theory was that the dumpling filling contained traces of pesticides. After this proved false, the Japanese then speculated that someone in China deliberately added pesticides to poison the Japanese.
Conspiracy theories
Japanese media reports gave two explanations: First, whoever had added the pesticides to the dumplings was anti-Japan and hated the Japanese; and second, this person was an employee of Hebei Tianyang Food Company, who wanted to get even with his employer for paying him a low salary.
The Guangming Daily stressed that the Japanese news reports were irresponsible for basing their articles on conjecture. Although Hebei Tianyang Food Company produced the dumplings, Japanese enterprises were in charge of their transportation and sale.
"It is unfair to lay all the responsibility on the Chinese side before a final conclusion is made, and it is irrational to connect a single case with all the foods, even all products, imported from China," the news report said.
At a regular press conference at China's Ministry of Foreign Affairs on February 21, Spokesman Liu Jianchao said the two sides were still cooperating on the issue, trying to discover the truth and make things clear through a cautious, scientific and thorough investigation. He said he appreciated some Japanese media's attitude that the two countries should carry out the investigation through active cooperation instead of blaming each other or asking the other side to take responsibility. At an earlier press conference, Liu said the best way for the Japanese media to help the two governments deal with the issue would be to remain calm, assume a fair stance based on scientific information and be accountable to their readers.
The Japanese government issued similar calls.
"The most important task is to prevent damage from spreading," Japanese Health Minister Yoichi Masuzoe said, according to an Associated Press report. "What we need primarily is cooperation between Japan and China."
During the eighth strategic dialogue in Beijing on February 22-23, Chinese Vice Foreign Minister Wang Yi and visiting Japanese Deputy Foreign Minister Yabunaka Mitoji agreed that no random conclusion should be made until the two countries completed their investigations.
Although the two governments stressed that the dumpling issue would not hurt their bilateral relationship, it created negative repercussions on both sides. According to statistics from Japan's quasi-governmental External Trade Organization, Japan had imported foods valued at $8 billion from China in 2006, or 35 percent more than it imported in 2001. Before the dumpling incident occurred, the Beijing-based newspaper International Herald Leader said Japan had been relying heavily on Chinese frozen food imports and that about 57.9 percent of Japanese consumers bought food imported from China. In Japanese schools and hospitals, about 70 percent-80 percent of all foods was produced in China, the report said, adding that a recent poll indicated that 75.9 percent of the Japanese surveyed said they would not consider buying food from China within a short time.
Domino effect
A Wall Street Journal report said that analysts believed the dumpling issue would influence Japan's importing food from China. The article