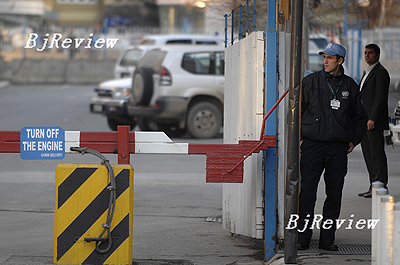 Kosovo's unilateral declaration of independence on February 17 has triggered different responses from the international community. While the United States and major European countries have recognized Kosovo as a sovereign state, other countries, including Serbia, Russia, Spain and Romania, have voiced their opposition. Quite a few countries have adopted a wait-and-see attitude, but are ready to choose between the two camps.
Russia is the second most fervent opponent only next to Serbia, from which Kosovo broke away. As is already known, the United States and some European countries support Kosovo's independence. Given these factors, some experts claim that the situation seems to have led to a "new Cold War" between Russia and the United States, or even the entire Western world.
The United States and major European countries have supported Kosovo's independence mainly for two reasons. First, they believe that Kosovo's independence is indispensable for stability there and in the western Balkan region, including Albania, Serbia, Croatia, Macedonia, Bosnia and Herzegovina, and Montenegro, as well as for security in Europe at large.
"Nine years ago, the international community, led by NATO, acted to end brutal attacks on the Kosovar Albanian population," said U.S. Secretary of State Condoleezza Rice in a statement issued the day after Kosovo's unilateral move. "In light of the conflicts of the 1990s, independence is the only viable option to promote stability in the region."
Second, the United States has argued that Kosovo's independence was a special case in the context of "Yugoslavia's breakup, the history of ethnic cleansing and crimes against civilians in Kosovo." So, it cannot be considered as a precedent for any other situation in the world today, Rice said.
Judging from the past and present of the Kosovo issue, the two reasons are not well founded. If Kosovo's independence is the only viable option to promote Balkan and European stability, why didn't Western countries pursue this goal immediately after NATO bombed Yugoslavia in 1999? Instead, they demanded Kosovo meet eight political, economic and other criteria before considering its final status. Obviously, Western countries and the international community were cautious about Kosovo's independence at that time.
Most Western analysts believe the West realized that Kosovo would not achieve stability unless its status was determined only after the ethnic conflict in March 2004, the largest since the 1999 Kosovo War. As a result, they began to adjust their policies and gave priority to resolving the status of the territory. After 1999, Serbia virtually lost its control over Kosovo. Because all its troops were withdrawn, it was unable to wage attacks on ethnic Albanians there. The ethnic conflict in 2004 was a conflict between Kosovo's Albanians and Serbs. Even in an independent Kosovo, there are Albanians and Serbs who reside in their respective settlements. Whether conflicts between them can be prevented remains in question.
The United States and the European countries may think that because ethnic Albanians make up 90 percent of the residents in Kosovo, their stability will greatly contribute to the overall stability of Kosovo. If that's why they supported Kosovo's independence, it means that they sought to meet the demands of Kosovo's Albanians under the pressure of Albanian nationalists. The reason given by Rice is therefore far-fetched.
Her second reason looks even more ridiculous. There cannot be two identical regions in the world. In fact, the biggest difference between Kosovo and other secessionist regions is that Kosovo has secured the support of the United States and major European countries, which may not be available to other regions at present. But whether they will stick to their position in the future is anybody's guess.
Considering these inconsistencies, Russia strongly retorted the Western rhetoric. President Vladimir Putin said the European countries should be ashamed of their "double standards." When giving support to Kosovo's independence, the United States and some European countries publicly violated international law, specifically the UN Charter and Resolution 1244 of the UN Security Council aimed at resolving the Kosovo issue, he said. Calling it a "terrible precedent," he warned that the declaration of independence by Kosovo would blow apart the whole system of international relations developed not over decades, but over centuries, and lead to a series of unpredictable consequences.
"They have not thought through the results of what they are doing," Putin told Russian state television. "At the end of the day it is a two-ended stick, and the second end will come back and hit them in the face." Even Western critics pointed out that Russia's opposition was