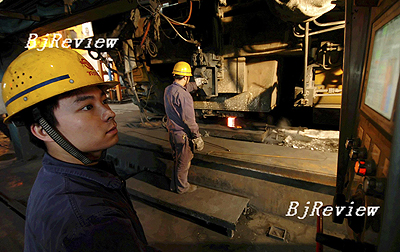 Month-long negotiations recently ended with an agreement to raise the price of iron ore at least 65 percent. The phenomenal price rise has made a tough situation for the Chinese iron and steel industry worse. Challenged by rising costs and sluggish international sales, the industry had been under pressure already.
The China Iron and Steel Association (CISA) estimated that steel exports would drop 27 percent in 2008 and the government is also likely to take new measures to reduce iron and steel exports.
The rising price of iron ore could trigger a domino effect-first increasing the price of iron and steel, then causing price surges in home appliances as well as autos, computers, and virtually everything else. The escalating cost of living is expected to rise further, adding pressure to an already high inflation rate. This might lead to all-around inflation across the country, as the pressures of the price hike would eventually be transferred to consumers.
Heavy metals
Rising costs and falling exports have put Chinese steel companies in a bind.
In February, major steel companies across the world agreed with the world's leading iron ore producers such as Cia Vale do Rio Doce (Vale) to a 65-percent rise in the price of iron ore. The new price will take effect on April 1 this year and extend for a further 12 months after the date.
Iron ore prices have increased for six consecutive years since 2003. This was also the year China surpassed Japan to be the largest iron ore importer in the world. The biggest rise was 71.5 percent between 2005 and 2006.
Compared with the 9.5-percent rise last year, the huge price jump has put the Chinese steel producers in a difficult situation. Although major steel companies expressed their opinion that the hike was "acceptable," they are now forced to think of other ways to make a profit.
"Domestic steel companies are facing greater challenges because of changes in exports," said Luo Bingsheng, Secretary General of CISA.
Since April last year, the government had issued a series of policies reducing tax rebates and imposing export taxes in a bid to curb iron and steel exports. In the fourth quarter last year, crude steel exports dropped 3.31 million tons, down 24.46 percent year on year. In sharp contrast, iron and steel exports surged 179.6 percent in the first half of 2007.
Analysts project that China must reduce steel exports by at least 20 million tons to fulfill domestic demand. Although this will ease pressure on the supply of domestic iron ore, highly lucrative international export market will have to be given up.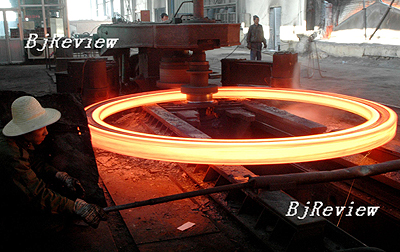 Coupled with rising freight costs, electricity costs, and coal prices, the profitability of steel companies could be dampened. Resource taxes and environmental protection fees add further costs to steel companies.
Struggling for profits
The iron and steel industry recorded huge gains in 2007, but people doubt whether they can continue. Iron ore prices only rose 9.5 percent year on year in 2007, while this year they will rise 65 percent.
CISA estimated that the country's iron and steel producers' profits would rise 45 percent last year, driven by the booming domestic economy and strong international demand. "Profits hit a record high of 190 billion yuan ($26 billion)," said Zhang Xiaogang, President of CISA.