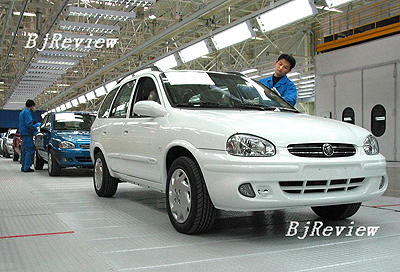 What's good for the country is good for General Motors Corp. (GM) and vice versa. This well-known statement made by Charles E. Wilson, former President of GM, has been validated by the escalating subprime mortgage crisis in the United States.
GM has recently felt ripple effects from the lending debacle, reporting an 11.9-percent drop in 2007 revenue, which was $181.12 billion. The drop marked a net loss for the third year in a row for GM and the biggest deficit in global automotive history. By contrast, Toyota Motor Corp. exceeded GM to become the world's largest automaker in sales value with its sales reaching $243.2 billion.
GM, one of the world's largest employers, was the first corporation to see its output exceed $1 billion in the United States and has been the No.1 automaker in global vehicle sales for years. In the 1960s, when GM was at its peak, half of the vehicles sold in the United States rolled off GM assembly lines.
GM's 49-percent stake in its financing arm, GMAC, contributed to its record net loss of $38.7 billion last year. The financial services company is providing services including automotive financing, real estate financing, insurance and commercial financing in 39 countries.
"Beside the widening deficit in GM's North America operations, GMAC, especially its mortgage unit, Residential Capital, led to the automaker's record loss," said Zheng Gang, a researcher with the Shanghai branch of Sinotrust International Information & Consulting (Beijing) Co. Ltd. GMAC reported a loss of $2.33 billion last year. Residential Capital reported a loss of $4.35 billion last year, though the business still reaped a profit of $2.13 billion in 2006. Besides, the automotive financing business secured a profit of $137 million last year, decreasing by 77 percent year on year, and the insurance unit reported a profit of $68 million, down 91 percent from the previous year.
In the North American market, GM performed poorly in sales of large vehicles such as pickup trucks. By contrast, the automaker fared well in emerging markets such as South America and China, enabling it to maintain the world's No.1 position in sales volume of vehicles in 2007 by narrowly outnumbering Toyota.
Its overseas sales volume reached 5.5 million vehicles last year, accounting for 59 percent of its total global sales, which was largely attributed to its remarkable performance in China. GM sold about 9.37 million cars and trucks around the world in 2007, and the 2007 tally was the second best global sales total in the company's 100-year history. It included more than 1 million vehicles sold in China, of which 479,427 were sold through Shanghai GM and 548,945 through SAIC-GM-Wuling Automobile Co. Ltd. Shanghai GM has been China's leader in passenger car sales among joint ventures every year since 2005. These contributed to a 15.1- percent increase of GM's vehicles sales in Asia Pacific. Besides, its sales in Latin America increased 19.4 percent year on year due to robust demand in the Brazilian market.
GM now pins its hopes on the Chinese market and will rival Japanese automakers in the world's lucrative emerging auto market. GM will increase investment in Shanghai GM and might move the production of new small engines to China, according to Shanghai GM President Ding Lei. This will boost the profitability and competitiveness of Shanghai GM.
According to Zhang Yuyan, Director of the Institute of Asia-Pacific Studies under the Chinese Academy of Social Sciences, many developing countries in Asia are seeing unprecedented economic growth and political stability and more families can afford a car. This is a major reason why the region has attracted multinational companies. Zhang also pointed out that the growing demand in emerging markets, for example, the demand for super cheap cars, will largely affect the R&D direction for the company's future products.
GM has bolstered its engineering staff in India to around 1,000 who are engaged in developing more economic cars, said Jim Queen, GM's Group Vice President of Global Engineering. SAIC-GM-Wuling Automobile, GM's joint venture for small cars in China, is building an affordable car priced at $3,500, which will be available in emerging markets such as Russia, India, China and South America, said Queen.
This move will lead to the revival of small vehicles in these markets, said Zhang.