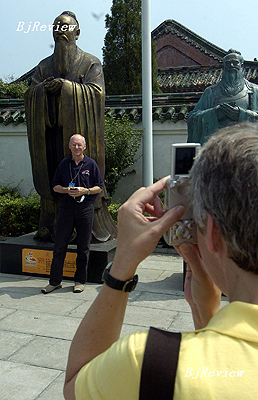 Who is the most famous Chinese in the world? The answer may be easy to some of you: Confucius. Born in 551 B.C., the Chinese sage initiated the first private school in Chinese history, making great contributions to the popularization of Chinese culture. He devoted almost all his life to teaching his students, and spent 14 years traveling to the various kingdoms of the East Zhou Dynasty (770 B.C.-256 B.C.), promoting his thoughts and teaching methods. Today, institutes named after him have sprung up all over the world, undertaking the task of spreading Chinese culture and the Chinese language.
"Actually our Confucius Institute does not imply Confucianism; it is just an organ to promote Chinese language and culture," said Zhao Guocheng, Deputy Chief Executive of the Office of Chinese Language Council International, to CHINAFRICA. According to him, the core of CI's work is not to promote certain values, but to respond to the demands of foreign countries, and supply services and information about China to those who are interested in it.
Though the first CI was established in Seoul, South Korea, in 2004, China's efforts at promoting Chinese culture and Chinese teaching began dozens of years ago. In 1992, Hanban established two Chinese centers in Moscow and St. Petersburg. Subsequently, another such organization was established in Kazakhstan. Since 1997, the Chinese Ministry of Education has been cooperating with the State of Lower Saxony, Germany, on the construction and operation of the Chinese center in the state capital of Hanover. The center made fruitful achievements in Chinese language promotion, Sino-German inter-cultural training and special talents training.
In April 2007, the highest administrative organization of CIs -- the CI Headquarters - was established in Beijing.
"The headquarters are responsible for supervising and managing CI operation, guiding and assessing CI education activities and supplying resource support to CIs all over the world," said Zhao, who is also the Deputy Director-General of the CI Headquarters.
Ensuring teaching quality
Most of the CIs abroad are operated jointly by Chinese universities, foreign universities or related institutes, under the management of a council consisting of both sides.
"In our real operations, we give first place to foreign sides, since they know more about the local situation and are better aware of how to meet local people's demands," said Zhao. "CIs are not for pure academic study, but to foster applicable language talents to meet social demands."
According to him, language is the carrier of culture, and it is impossible to learn the Chinese language without knowing Chinese culture.
"We take consistent measures to strengthen CI, so as to ensure teaching quality," he emphasized.
In 2007, Hanban issued three norms to standardize CI development: International Norm for Chinese Teachers, International Norm for Chinese Language Competence and The Outline of General Curriculums for International Chinese Teaching. The first is not just a norm targeting teachers from China who teach Chinese overseas, but a general norm for everyone involved in Chinese teaching. With this unified norm, the CI Headquarters can standardize its CIs abroad and ensure their teaching quality.
"While drafting these norms, we referred to the experiences of similar language norms in the EU, Canada and the United States," said Zhao.
The International Norm for Chinese Language Competence consists of five levels, and has detailed descriptions from the first level of simple communication with gestures to the fifth level of proficient communication. Moreover, it also has standards for Chinese writing and reading. The Outline of the General Curriculums for International Chinese Teaching, which is being drafted on the basis of the norm for Chinese competence, also comprises five corresponding levels.
Development bottleneck
Despite these advances, the undeniable fact remains -- Chinese language teaching resources lag far behind the demands at the moment. Statistics from the annual report on the Language Situation of China 2007, issued by the Ministry of Education, show that there were nearly 40 million foreign students of Chinese globally in 2005, while the number of Chinese teachers for foreigners was no more than 40,000. That's one Chinese teacher for every 1,000 students. The report predicted that by 2010, the number of students of Chinese overseas would hit 100 million, and several million Chinese teachers for foreigners would be required.
Furthermore, people have higher expectations from CI curricula. Their demands have expanded from sole language learning to other sectors such as economy and culture. The traditional teaching modes of writing and rote learning cannot meet diversified and personalized demands.
"Domestic colleges and universities are the major forces in training Chinese teachers for foreigners. We are happy to see that the state is strengthening its support for this field," said Zhao.