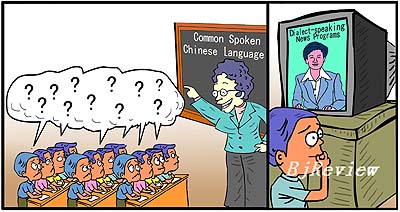 Common spoken Chinese language, or Putonghua, is used by 53 percent of the country's 1.3 billion population, but the use of local dialects is still popular in many regions today. As a result, TV programs in local dialects are still much in vogue despite the language authority setting up regulations to standardize the use of the Chinese language. The tension between the forms of expression in China's media came to a head recently. Wang Dengfeng, Deputy Director of the State Language Commission, told Xinhua News Agency that local dialects are now prohibited from being used by TV or radio news programs.
Indeed, dialects are totally banned in making news programs, and the time and length of other dialect-speaking programs are also explicitly stipulated. Surveys show that there are dozens of dialect-speaking TV programs nationwide, most of which are well liked by audiences and return high viewer ratings.
The initiative to crack down on the use of local dialects in the media is widely questioned and even opposed by those who advocate the protection of cultural diversity. It is said that many viewers of dialect-speaking TV programs are elderly who have spent their entire lives where they were born and are entitled to learn about the country through these programs. Some scholars, who are keen to preserve the status quo, deem dialects as genes of traditional culture and an invaluable part of national heritage. They say that as early as 1999, the United Nations Educational, Scientific and Cultural Organization (UNESCO) designated February 21 as World Mother Languages Day, in a bid to promote the protection of linguistic diversity worldwide.
Officials argue that programs beamed out to a dialect-speaking audience are of limited influence, due to a small viewership and narrow range of topics. They point to the majority of socially inactive aging viewers and say the programs do not help traveling migrants who do not understand the dialects.
More than 80 percent of people on the Chinese mainland communicate through thousands of dialects daily, and since the late 20th century, about 1,000-2,000 new expressions (phrases or words) have come into being each year, most of which are borrowed from the so-called dialects or foreign languages and have in turn helped update Putonghua.
The language authority said that the promotion of Putonghua doesn't really mean the elimination of local languages. But dialects and languages other than Putonghua are not allowed to be used by civil servants on duty, as well as people who are engaged in the service, media and education industries.
Unity rules
Li Zhenzhong (hlj.rednet.cn): A nation essentially requires a unified language to be cohesive, and in China, that is Putonghua. As a major tool for communication nationwide, this language is of vital importance to have effective exchanges between different regions, and continue the Chinese civilization. If this language link is cut off, the mixture of dialects, which can easily cause misunderstandings, could harm communication.
Take east Shandong Province for example: People of the capital city Jinan speak one dialect, while those from coastal Qingdao or Yantai cities in the province speak in another. That's the reason why Putonghua is a precondition for social progress and national development.
Guan Xiang, a well-known Chinese linguist, has cited the needs of overseas Chinese to justify his active advocacy of dialect-speaking programs. According to him, a large number of Chinese immigrants overseas can speak only dialects such as Hokkiense (used by Fujian and Taiwan people) and Cantonese (used by Guangdong and Hong Kong people). However, state-sponsored overseas TV programs are in essence different from dialect-speaking broadcasts in Putonghua-dominant mainland communities in terms of functions, as the latter only serve as an alternative source of information. The language authority has also made it clear that overseas TV programs are not subject to the existing ban.
It is also a baseless fear that reduced use in the media would further diminish the already fading influence of local dialects and related cultural masterpieces, such as operas, because residents are free to use their favorite languages to communicate with each other.
Mo Ke (www.zjol.com.cn): To maintain the vitality of one dialect demands not only a large speaking population, but also its rich expressiveness and convenience of use.
Local dialects may represent folk arts and are in need of protection. On the other hand, they are gradually formed in history and evolving with the times to keep them alive.