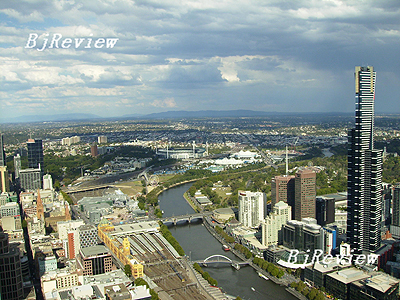 The two photos here are Melbourne, Australia, and Wuhan, central China, and there's no prize for guessing which is which. When I took this photo of Wuhan back in September last year and compared it to a similar shot of Melbourne, I was shocked at the difference. But it got me to start thinking objectively, how is such a stunning difference possible?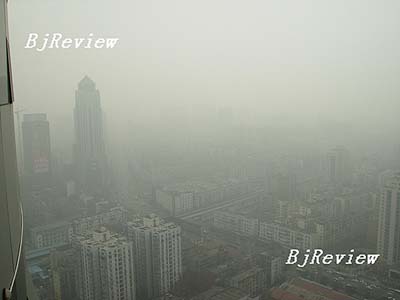 It's old news that progress and economic growth come at a price, and one of the most common prices is environment. This is certainly a global phenomenon, and not just something happening in China-the developing world is littered with examples. But your perspective changes a lot when you're living in one of these examples, and directly breathing in the cost of progress.
A quick, obvious and fair thing to note is that Melbourne's population is about a fifth of Wuhan's. But there are a few other things that appear, to a foreigner like me, glaringly different. One of them is one of my first impressions of China, from when I arrived 18 months ago in Guangzhou-that many things in China are old. I mean, REALLY old.
Again, this is a trait of most (actually, all) developing nations and cities. I live in Wuchang, one of Wuhan's three boroughs, and this area is absolutely rife with construction and demolition tools, machinery and vehicles-some of which, if they were in Australia, would be behind glass in a museum. This may sound like an exaggeration, but actually I'm not joking-a few times I've stared at a demolition tool that should never have left the drawing board, but there it was, a technological curio covered in the grease of 50 year's usage. So these museum pieces are, mostly because of economic considerations, and the fact that they inexplicably still work, still in use. And some of the fumes that come from these things are as black as coal.
There's something else that's important in bringing about any major change in any country in any context-it's changing people's attitudes. I've been reading a lot about Chinese culture lately, including a book by a celebrated and important Chinese author, Lin Yutang, entitled My Country and My People. This was written in 1935, but a great deal of the book's emphasis is about introducing the fundamental Chinese psyche to the Western mind, and it still has a lot of pertinence today…as far as I can tell.
One of the book's chapters discusses how the Chinese look after themselves and their families, with little regard for the people and environment around them. It can be argued that these attitudes are changing, but as far as I can see every day in Wuhan, these aren't changing fast enough. There is a quote from the book that says that many Eastern people are "robbing the nation to enrich the family," and when I see the pollution levels in Wuhan, but more significantly the machines that are producing that pollution, I can see that words written 73 years ago are still ringing true.
These words may sound harsh, and I'm aware that there are many factors involved here, but honestly, some of the petrol-driven pushbikes, and motorbikes from the 1960s that currently whiz around Wuhan should be thrown on the scrapheap for the good of the planet. Maybe the government can compensate bike owners for their losses, i.e. pay people to hand over their diesel-fuelled vehicles?
From what I see here in Wuhan, I think that the locals need to be convinced that their little part in producing pollution (and garbage) DOES make a difference. Environmental change starts with the individual-that's why so many thousands of Australians choose to ride bicycles to work. And there should be a citywide car-free day regularly (and have it enforced), and see if that makes a difference.
I realize that a lot of this article is ethnocentric, and for a lot of time, just not functionally possible. But come on. When I see these photos put together, it depresses me that 9.1 million people in Wuhan, (including me), are currently breathing in this amount of pollution. Things CAN change. It starts with each one of us.
The author is an Australian living in Wuhan, Hubei Province