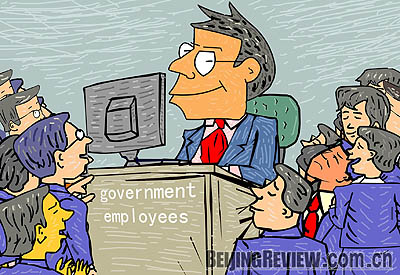 LI SHIGONG
China's civil service has long been described as the "iron rice bowl," meaning the place where employment is guaranteed for life. But as with all things in the country, little escapes change. Wenzhou City in eastern Zhejiang Province recently updated the conventional image of the civil service by launching an initiative to introduce contracted technical employees into the system to supplement the government's shortage of talent in specialized areas. The competition introduced into the workplace is also expected to motivate long-term civil servants. To ensure they hire the cream of the crop, Wenzhou will offer these new staff bigger salaries and other incentives.
According to Wenzhou's local civil servant management department, this is only a temporary measure to fill gaps in the numbers of specialized personnel, such as technicians and professionals engaged in macroeconomic regulation and city planning.
Wenzhou's initiative came about because current civil servants, knowing they have a job for life barring serious misdemeanors, under perform. In the process their jobs often become redundant, but they remain. The current system, however, makes it difficult to dismiss them, and this is a major headache for some government institutions.
Wenzhou is not yet the first to carry out the government contract employee system. Shenzhen in Guangdong Province has experimented with such programs. The initial idea was that these new technical recruits would generate internal competition and put pressure on long-term employees to perform, ultimately improving governance efficiency all round. China's Civil Servant Law, which took effect on January 1, 2006, states clearly that government contract employees are also included in the civil service system. Advocates of this plan believe that contract employment in government departments could currently be the best solution to create a balance between governance efficiency and the civil service operating system.
Whether the new policy will bring fundamental changes to the system remains to be seen. People who are opposing it, however, argued that, the so-called "new blood" of contract employees cannot put any competitive pressure on their regular peers since they are not included in government employment quotas. There is also doubt about the legitimacy of paying bigger salaries to contract employees, because expenditure to maintain the government's daily operation in China is already huge and this would just add to the financial burden. Internationally, administrative spending accounts for an average of 2 percent-14 percent of the total state budgets, while that figure in China stood at around 19 percent in 2005.
Service-oriented government
Peng Xingting (Yanzhao Evening News): Most government contract employee programs are characterized by short-term contracts based on negotiation from both sides. In this case, contract employees are not entitled to exercise administrative powers as they hold no position in the system. Compared with regular civil servants, they are professionals in sectors of law, finance, trade, foreign languages and information technology, introduced to optimize government service structures.
The rules say that in the case of any work violation of discipline or legal codes, or failure to perform their duties, labor contracts for government employees shall be terminated, meaning they are fired. This is instead of any form of disciplinary punishment that applies to regular civil servants, like lowering in rank or being dismissed from a current post. In addition, during the term of the contract, they earn a salary based on their skills, which will be essential to determine their salary level and other benefits, and they do not need to depend on being promoted through the ranks. It represents a more flexible employment system oriented by market rules.
Over the past decades, a guaranteed job for civil servants and rigid official ranks have resulted in bureaucracy, personnel redundancy and low governance efficiency. The emergence of government contract employee programs is a bold reform and it is felt that a more credible mechanism and introduction of modern corporate elements are helpful in constructing a new civil service management system. Despite the authorities' leading role in selecting employees, the new recruitment system will open more channels for skilled people, which will change the way the government functions and improve its efficiency.
Wei Wenbiao (Hainan Daily): Merit-based entry-level tests for Chinese civil servants have failed to fully assess the professional knowledge and working experience of examinees. Personal connections used to be paramount for government recruits. Even though they are recruited, they may not fit specific jobs like macroeconomic planning, which is a difficult task for fresh graduates. While government contract employees with professional skills usually pay more attention to career achievements than stable jobs, the new recruitment system, in this sense, can help the government attract more high-caliber people.
These contract employees can be fired for incompetence or underperformance, which creates possibilities for more flexible employment.
It is true that due to heavy bureaucracy, slow response and a low level of service awareness have long hampered government's operations. More changes in the personnel management system will help improve this situation and spur civil servants to voluntarily make self-improvements.
Wang Yuchu (Wenzhou Metropolitans Daily): The significance of implementing government contract employee programs is not constrained by limitations of fulfilling the talent gap. Statistics released by the National Audit Office in March show that 34,429 government officials and Party leaders were responsible for wasting state assets worth 7.2 billion yuan ($1.03 billion) in 2007, mainly caused by wrong policy-decisions or a lack of professional knowledge. There is a need for more skilled government contract employees, who can help save administrative costs by providing more appropriate suggestions and preventing unnecessary waste.
Wang Pan (Henan Business Daily): Intensive tests for recruitment of civil servants fail, in most cases, tests to measure their adaptability to positions should be offered. Government contract employee programs are a positive sign of reform in the civil service system, and should be continued so that it is more in tune with today's needs.
Efficiency first
Wang Junrong (www.cqnews.net): The recruitment of new skilled staff does not necessarily mean that regular civil servants will lose their jobs. Government contract positions are so far limited to highly qualified technical specialists, who are taking a small proportion of the total jobs and won't affect bonuses and promotions of regular jobs in any way.
Therefore, the ultimate solution is to break the "iron rice bowl" and introduce more evaluation and a more credible system.
Zhang Chengcai (Modern Evening Times): Today's problem of personnel redundancy is directly caused by a surprisingly low elimination rate in the system. As we know, to reduce administrative costs and consolidate governance efficiency, we have to streamline government organs and introduce competition by eliminating unqualified civil servants.
Since government employees of the contract system have neither administrative functions nor exercise administrative powers, they do not affect the status quo of the current system, and thus will not make any fundamental change to it.
Chun Hua (Information Times): High spending on outside skills in the form of recruiting contract employees is conflicting with the ongoing reform of government bodies in China, which is aimed at saving administrative costs. Wenzhou's initiative has not yet improved the system by eliminating incapable and irresponsible civil servants.
Zhou Dongfei (Modern Express): Northeast China's Jilin Province was the first to implement a government contract employee system in 2002, and then governments of different levels quickly followed its example. Without expectation, none of them have been as successful as was expected. It is now recognized that China needs a smaller more efficient team of civil servants. But to motivate or encourage them, we should
Dear Readers,
"Forum" is a column that provides a space for varying perspectives on contemporary Chinese society. In each issue, "Forum" will announce the topic for an upcoming issue. We invite you to submit personal viewpoints (in either English or Chinese).
Upcoming Topic: Are bonus points for female students sitting for higher school admission examinations appropriate to boost gender equality?
E-mail us at byao@cipg.org.cn
Please provide your name, telephone number, zip code and address along with your comments.
Editor: Yao Bin