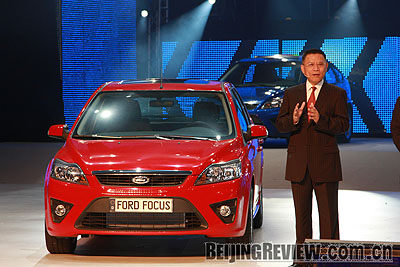 LOOKING GOOD: Ford Focus has become one of the most popular models among Chinese consumers since its introduction here in 2003. Pictured here is the company's new 2009 model
The chief executives of the Detroit-based Big Three--General Motors Corp. (GM), Ford Motor Co. and Chrysler LLC-returned to Washington on December 2 with a renewed request for federal aid up to $34 billion, a third more than the $25-billion bailout Congress is currently debating.
GM and Chrysler said they need $15 billion right away to stay in business until next month. The request came the same day that GM reported its November U.S. sales tumbled 41 percent from a year earlier, Ford posted a 31-percent decline and Chrysler a 47-percent drop.
But the Big Three will need much more than a bailout plan to survive. They are required to undertake a wrenching restructuring of operations and products to increase their efficiency and reduce costs. While further reducing capital spending to conserve cash, the three automakers are counting on sales growth in emerging markets to offset slumps in North America and Western Europe.
| | |
| --- | --- |
| | OPTIMISTIC: Ding Lei, General Manager of GM Shanghai, has high hopes for the future of GM's development in China  |
GM, for example, will increase its investments in China, its largest market outside the United States, according to its third-quarter report. The carmaker plans to introduce 10 new models in China by 2011 and aims to raise its annual sales here by 500,000 vehicles over the next three years, said GM China President Kevin Wale, who made the comment at the BusinessWeek CEO Forum on December 3-4 in Beijing.

Redemption is elsewhere

Emerging markets such as China and India offer the Big Three, GM in particular, another rescue option. GM remains the largest overseas automaker in China and is expecting its most promising market to outperform the U.S. market in the coming year.